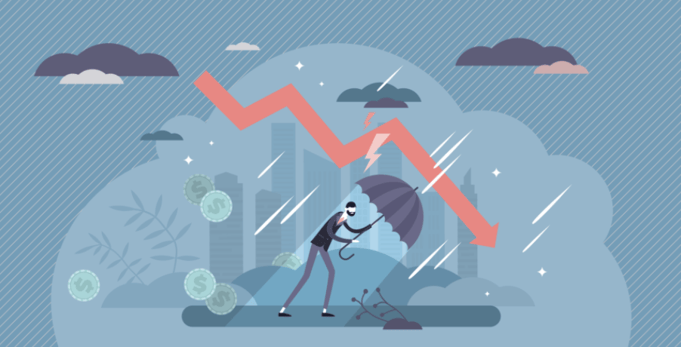 GrowthForce CEO Stephen King, sat down with Chris Reynolds of The Business Method Podcast to discuss his experience in Surviving 5 Recessions as an Entrepreneur.
Stephen King shared key steps to take when navigating through a recession, and some of the major lessons he learned as a CEO facing his 6th recession.
"Now is the time to make the hard decisions," King said, "Sales will cover a lot of ills. But when sales go down, that's when you have to work smarter and sharpen the saw."
---> Click here to listen to the full podcast interview
Here are 7 key lessons learned...
Lesson #1:

Mindset Is Key
It's time to paint a picture of reality and ask yourself: How bad is it?
"Right now, it's about not making decisions based on emotions. It starts with getting the right mindset as the leader. You should not make decisions while in a heightened, emotional state," King says.
King continues, "If you approach the situation with a realistic view based on data, and not an emotional view based on fear, uncertainty, and doubt, your likelihood of keeping the team productive is going to grow."
Lesson #2:

Get The Data
"For me, the most important thing is to understand what data I need to have to pull myself out of this," King says.
Cash Flow
It starts with getting a cash flow forecast.
"You need your fingertips on the daily, weekly, monthly cash flows," King says.
"We recommend 13-weeks because it shows an entire quarter. And the reality is, we're really not going to know what's going on with the economy until the PPP money runs out," King continues, "The 13-week period allows you to get in front of issues enough to make decisions to help solve it."
Scenario Planning
The second data point is scenario planning. "Ask yourself- 'What if I lose 10%, 20%, or even 40% of my top line revenue?' This will tell you how much you have to cut in fixed costs," King says.
"The smart businesses right now are thinking 'how can I cut overhead?'- the costs that do not generate any revenue," King adds. "Examine your overheads costs and see where you can make cuts."
"The other point is looking at all your discretionary costs- what is optional? Cut these costs first."
Looking at your the break-even point will help you calculate how different scenarios might play out financially, and how much you have to dip into your reserve.
"Your break-even point is the most important number after cashflow. You have to understand how much you need to either bring in to cover your fixed costs," King adds.
Lesson #3: Know Your Gross Profit Per Client
"Now more than ever, you have to understand gross profit margin per client." King says, "Gross profit percentage is the number one most important data point on any financial statement."
"By studying Gross Profit Margin Per Client, you can easily figure out who the clients are that you really need to keep, and if you need to go find more revenue, what are the clients that I really want? What do they look like? How do you get more like them, and put all your energy into that," King emphasizes.
Lesson #

4

: Do Not Hand Out Discounts
"You recommend not discounting services. Can you dive into your ideas behind that and why it's important?" Reynolds asks.
"This is probably the biggest lesson of having been through a lot of recessions. When the emotions kick in, the natural reaction is to say, okay, I gotta get some business in the door," King says.
"That's a grave mistake." King continues, "The single biggest reason why I see people have cashflow problems is because they're not pricing their jobs right to cover profit and overhead. Their cashflow comes from the profit. And if they're discounting, all that discount comes out of the cashflow- it all comes out of the money that would have gone into the bank."
"Another reason why gross profit is the most important data point in a business, the lower the gross profit, the bigger the impact is on your cashflow and your profits. You need to have the data- you need to do the math. You need to be able to know if you give a discount, here's how much profit margin you are prepared to lose," King Adds.
King continues, "We have found that when you take all your overhead and your target profit, divided by the number of billable hours you have in your company, you won't give that 10% discount away anymore because you'll realize all you're doing is covering your overhead."
Lesson #5:

Sharpen the Saw
Reynolds asks, "Out of all the downturns that you've been through, can you tell us about one of the times it was the most challenging for you and what you did to recover?"
King recalls the 2008 recession: "It was tough because the economy was on a boom and we were rocking. We were hiring like crazy. And all of a sudden we had some excess capacity."
Kind recalls, "What we did was sharpen the saw. I had to figure out which of my people are the most profitable, which people are the most valuable and how to make sure I don't lose them."
"We focused on studying the profitability of each team, each client, and each marketing campaign. We created an internal sharpening the saw project, where we documented all procedures."
"I took the people that I've invested in and got their input and involvement on how we add more value, how we streamline the sales process," King says.
"Even now, we are working so much more efficiently than we did coming into this," King notes, "We kept our moneymakers busy with new product development, process improvement, and training."
Lesson #

6

: Don't let your clients' cash flow problems become your cashflow problems.
Don't underestimate the power of automation.
"The timing of how often you send invoices has a significant impact on your cash flow." King adds, "The difference in your cashflow by switching to a real time billing from a monthly building is staggering. It completely changes everything."
Streamlining the billing process will speed up your cash flow more than anything else. QuickBooks Accounting Software Intuit Payment Solutions makes this easy. We also suggest automating collections.
If you use QuickBooks® Online you can integrate the Funding Gates™ app, a receivable management system, to automate your collection process. GrowthForce uses Funding Gates to set up automatic collections reminders according to our collection policy.
Lesson #7: Overcommunication
Reynolds asked "What would you recommend for predicting which clients are going to make it through the recession and how to manage it?"
Pick up the phone and call clients to understand their situation, and how they are feeling. Now is the time to over communicate: "You want to be transparent with your customers, your vendors, and your banks. This is not a function of whether or not you have a good business model, or if you are a good business leader. Start by picking up the phone and calling every client and asking them, what's reality?"
Take advantage of technology: "We've been using Zoom and other video communication services to speak with clients. It's about looking somebody in the eye and walking them through an honest conversation."
Summary:
The 3 Choices
"What are the three choices that entrepreneurs have to make if they want to make it through an unprecedented moment of American history?" Reynolds concludes.
First Choice:

The Mindset.
"The first is the mindset: understanding that this is going to end and it's not forever." King replies.
"It's getting a realistic view based on data and not an emotional state based on fear, uncertainty, and doubt," King continues, "your likelihood of keeping the team productive is going to grow and part of that is really understanding what data do you want to have at your fingertips."
Second Choice: Sharpen the Saw
Streamlining and processing everything - King says, "How do you streamline processes? Use the people that you're going to keep to streamline and automate everything. Automation, automation, and automation."
"I recommend starting with cashflow. I was on the AICPA executive round table and the predictions were that the entire bookkeeping and accounting clerk function will be automated by 2023," King adds.
Third Choice: Gross Profit Percentage
"Study your margins and what has caused profits in the past, because that's what's going to cause profits in the future," King emphasizes.
Your gross profit percent % shows how effective you are in running your business. "It tells you if you're pricing your jobs right, " King adds.
Listen to the full podcast here: Surviving 5 Recessions as an Entrepreneur.
We're here for you.
Speak to an Advisor today to help navigate this storm.