GrowthForce Provides a Competitive Advantage to Partner CFO and CPA Firms
GrowthForce is one of the nation's leading providers of outsourced bookkeeping, accounting and controller services for growing businesses and nonprofits. We also serve as a resource to the accounting industry by delivering solid bookkeeping and management reports that support CPAs and outsourced CFOs in their role as a trusted advisor.
We don't compete with CPAs or CFOs – We do not offer traditional CPA services - no income tax preparation, audits or advisory services. We do the work you don't want to do providing a platform to layer tax, audit and advisory services on top of. You control the client relationship.
We pride ourselves on delivering timely, accurate and meaningful financial information using highly skilled professionals, the latest technologies, and being an expert in the most widely accepted accounting software – Intuit QuickBooks. Whether your client is in need of full or partial bookkeeping and accounting services, GrowthForce will work with you to best complement your role and the existing client staff.
It's your client. We work for you. We will follow your lead and become part of your team.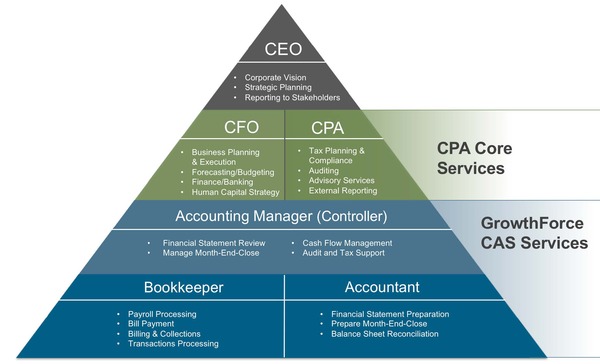 Three Key CPA/oCFO Benefits:
Offer Bookkeeping Services Without Adding Staff.

From the tasks we perform to the accounting policies we follow to the reporting packages that GrowthForce delivers – you take the lead in deciding our role. We can take direction from you by becoming your bookkeeping and accounting staff, we can supervise existing staff or we can manage the entire accounting function under your direction.
Clean Numbers You Can Count On.

Your ability to serve as a trusted advisor to your clients is diminished when their books are inaccurate or out of date. GrowthForce has perfected the practice of getting a client's books back in order, and keeping them that way, so you can provide higher value strategic services based on accurate numbers and meaningful management reports.
A Non-Compete Promise.

Our commitment is to supporting your role as trusted advisor, which is why our affiliate agreement explicitly states we will never compete with you. From our menu of services, you and your client can select which bookkeeping and accounting functions you don't want to do.
Three Key Client Benefits:
Removal of In-House Burden.

GrowthForce eliminates the time and expense incurred for recruiting, training, and managing staff by providing fully trained professional teams to serve your clients from our U.S. based service headquarters. We can also train and complement our mutual client's existing staff so they can achieve greater productivity.
Dedicated Team.

Whether your client needs partial bookkeeping and accounting services or a complete accounting department with management reporting, GrowthForce offers scalable service options based on your direction and assessment of their needs.
Smart Back Office.

Our in-house Intuit Advanced Certified ProAdvisors and technology specialists assess and optimize each client to provide a QuickBooks-centric financial system that is designed to enhance operational efficiencies and deliver greater reporting capabilities.