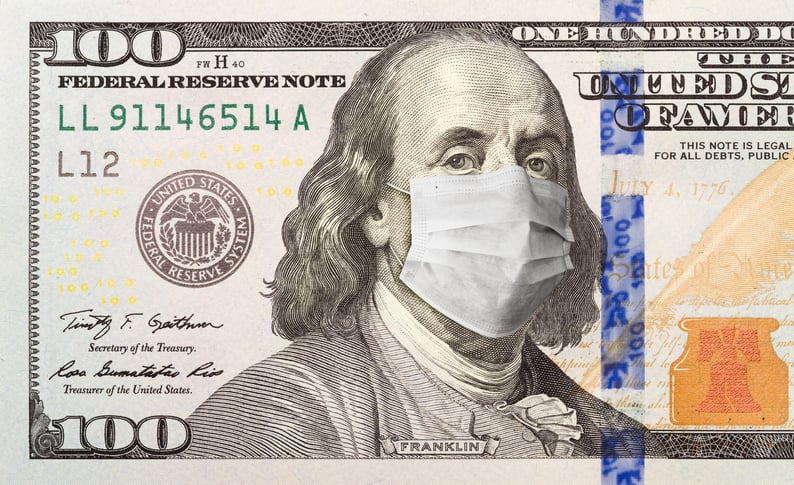 The COVID-19 pandemic has shaken the globe. Regardless of the industry you are in, you will have to adapt your current business operations to keep up with today's environment.
This pandemic is unlike any previous crisis, and a "traditional" crisis response may not be sufficient. The reality of the situation is failing to properly prepare during this time can have catastrophic effects on your business's future.
It's important to adapt to the changes both tactfully and strategically. Here are tips and best practices to help you navigate these uncharted waters and mitigate organizational risks...
Reality Check: The Right Mindset
The first step is getting into the right mindset: this is not the end of the world.
This is a time to transform negativity and uncertainty into opportunities for learning and growth. Choose to have a position of gratitude.
It's time to paint a picture of reality and ask yourself: How bad is it?
The Three Scenarios:
Survival: "We may not make it"
Restructure: "We are going to make it, but we will need to make difficult decisions"
Strengthen: "We are okay, and we want to use this as time to get better"
Once you know the three scenarios, you can figure out a financial projection to stress test your revenue model: Best Case (3 months), Mid Case (6 months), and Worse Case (12 months).
GET THE DATA for scenario Planning
Before you start making any decisions- get the data you need. Oftentimes business owners react on their gut, and make detrimental decisions they can't pull themselves out of. This is the worst thing you can do in the time of financial turmoil.
The first data point you look at is the break even cost. This will help you you calculate how different scenarios might play out financially, and how much you have to dip into your reserve.
Break-even calculation:
Fixed Costs $ / Gross Profit % = Break Even $
You can get down to more details with a Break-even Analysis template to help you get a good overview of your situation: Break Even Analysis Template from SCORE.org
Now that you have your definite break-even point, review the budget.
Budgeting and planning is more important now than ever. If you don't already have a budget, now is the time. Create a living document, and make sure it's kept up-to-date for this current situation - keep adjusting.
Budget templates:
Budget blog with example templates from Fundera
CASH IS KING: be vigilant with your cash flow management
If you are in survival mode, cash flow is the life raft keeping your business afloat. Your cash flow forecast needs to be reviewed and updated so you're better prepared for the future.
The difference between the companies that survive a recession and those that don't? Focusing on cash flow.
Proper management of your cash flow can make or break your business, especially during challenging times. Without a real sense of your cash flow, you cannot move forward.
Start with your cash flow forecast - your projected sources and uses of cash, then revisit cash flow best practices. You'll be able to navigate the road ahead and recover more quickly.
Adjust Your Books
Consider adding an expense line item called COVID-19, and capturing ALL information directly related to COVID-19. This includes any related material & supplies, as well as any your staff and personal time spent dealing with the crisis. Calculate any extra time employees are spending at COVID-19 related meetings- whether it be a safety meeting or a strategy session.
If the government offers relief, your data should be as organized as possible.
Here is a great video by Ron Lovett, author of Outrageous Empowerment, explaining more on how to update your COVID-19 expense items.
THE Three F'S OF Collection
Collections are often the last thing anyone wants to do- especially in a time of a financial crisis. However, outstanding balances can seriously impact cash flow and hold your business back.
By improving billing processes and adopting collections best practices for your business, you can improve the likelihood that you will get paid on time or in advance (yes, it really can happen!). We recommend following the three F's of Collections and automating the process as much as you can.
The 3 F's of Collections...
Firm: Never end a call without a confirmed date.
Focused: Overcome objectives and be prepared with answers.
Friendly: Kindness goes a long way.
We also suggest automating collections. If you use QuickBooks® Online you can integrate the Funding Gates™ app, a receivable management system, to automate your collection process. GrowthForce uses Funding Gates to set up automatic collections reminders according to our collection policy.
And when someone is late, it will automatically send a series of progressively direct emails and make phone calls to get your money. Start at the largest balances that will impact your cash flow forecast the most.
Cutting Below The Line Costs
Review all overhead and indirect costs with a fine tooth comb. These are items that were nice to have, but were not vital in keeping your company alive.
Use this cheat sheet on suggested cuts:
People are not in the office - cut cleaning crew down to once or twice a week!
Not generating paper - no longer having to pay for a paper shredder/ extra paper. People are working remotely now and everything can be on the cloud.
Onsite costs are decreasing - Take advantage of the remote working environment.
Cut non-essential company events - Make cuts to company meetings, parties, or any extra curricular event
Another option to consider is to outsource non-competencies as one solution to save money. For example, outsourcing bookkeeping functions typically costs 30-40% less than an in-house bookkeeper for example.
Many businesses are transitioning to outsourced accounting services as a more cost-effective and efficient alternative to in-house accounting.
Review "Above the Line" Costs: Protect Your People
How do you figure out who to keep? And who to furlough? One important note to keep in mind: People Drive Profits.
Can you afford layoffs? The cost of turnover is more than you think! One major mistake most business owners make during a recession is loading up on the layoffs. Re-Hiring and retraining once the dust has settled is costly.
It is estimated that 28 million jobs (one in six U.S. workers), are currently at risk of layoffs.
So how do you make the decision on who to keep and who to furlough? Your decisions should be based on data. With emotions running high, it is important to be looking at the numbers while making these difficult decisions.
We've put together a resource page to help you get the data you need to make the right decisions.
Here will show you what reports (and how to get them) to look at to make the right call- including how to see profitability at both the employee and team level.
If cuts are needed to be made, instead consider ask employees to take an equal hit. Be transparent with employees and you may need to suggest a four-week unpaid time off period rather than having permanent layoffs.
Use the time with your staff - "sharpen the saw"- Invest in training, identify efficiencies, and enhance products. Now is the time to dive in and find the value of what you are offering.