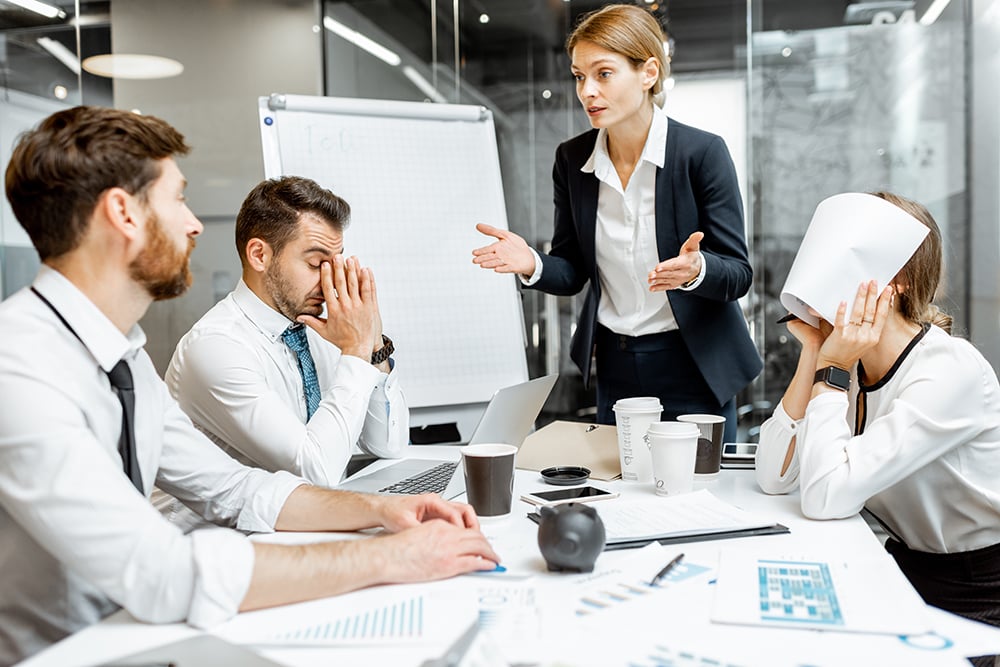 Running a nonprofit is way more challenging than running a for-profit business. Nonprofit leaders are faced with tighter regulations and more compliance rules, they have fewer drivers and levers to pull, and nonprofits must also operate under the looming eye of the board of directors.
In order for your dreams, as executive director, to come true — your nonprofit achieves success and does more good than you ever could have imagined — you have to prevent your nightmare, an unhappy board of directors, from becoming a reality.
Why Would the Board Be Unhappy?
Depending on the nature of the individuals that make up your nonprofit's board of directors, there's potentially endless reasons why they're dissatisfied. Sometimes trouble within a board has nothing to do with the executive director's role. However, it's better to be aware of what could make it a more productive situation.
Assuming your board members are qualified and function in a reasonably harmonious manner, it's important to open up the lines of communication between you, the executive director, and your board to identify exactly what the problems are.
Perhaps, fundraising efforts are falling short or you don't have enough donor diversity. Maybe the organization is suffering from the cost of frequent staff turnover or other burdensome overhead expenses. Have funds been misallocated? Have you lost sight of your mission or are outcomes not aligned with what the services were intended for ? Have donors been asking questions about the use of funds?
In short, there could be a myriad of reasons why your board is unhappy.
Since the board ultimately holds the power in your organization, it's important for an executive director to maintain a positive rapport with board members and a solid, defensible strategy for executing the board's goals for your organization.
The Best Strategy for Clear Dialogue and Unbiased Decision-Making in a Nonprofit Organization
As executive director, part of your job is answering to the board and acting as an extension of the board in your organization's daily operations. You're the board's insight into the day-to-day function of the organization. You act as their eyes and ears. It's up to you to make sure your staff is productive, using an astute human capital management strategy.
It's also your responsibility to make sure your board has the information they need in the form of high-quality financial data to make intelligent, data-driven decisions. This information will allow you to all work together to resolve the problems within the organization.
When you and your board members have the know-how to use your financial data and financial management reports to make strategic decisions on behalf of the nonprofit, there's no room for opinion, bias, or taking sides.
Numbers don't lie, and learning how to make decisions based on your nonprofit's financial data will make all the difference in your relationship with your board, their satisfaction with your performance, and in your organization's ultimate success.
Numbers Don't Lie: Answering 5 Top Questions in Your Nonprofit with Financial Reports
By providing your board of directors with clear, accurate, and timely financial data, you can team up to answer some of the most important questions within your organization.
1. Where Should We Focus Our Time?
This is the biggest and most important question that a nonprofit can ask. Time the only absolutely finite resource, and it's essential that you and your staff use your time wisely. To determine where you should focus your time, you'll need to look at your organization's overall financial picture to determine which areas require the most work. This will help you create a management plan for your staff, donor management, events, and various fundraising campaigns.
2. Whom Do We Serve?
The board of directors should be shown reports that provide an overview of the organization's overall performance, budget performance, activity performance, and current financial position. If these reports reveal problems already in existence or potential future challenges, they might need to take a deeper dive, looking into additional financial reports.
3. Which Programs Do We Stop, Start, or Continue?
If a nonprofit had the potential, they'd help everyone and fix all the problems, but this isn't a reality. When working within a budget and with very finite resources, it's up to your finance committee to determine which programs can continue. A number of factors and financial reports will help your finance committee make these kinds of tough decisions. They'll need to see your budget, year-end projections, payroll reports, and more.
4. Where Do We Invest Development Dollars?
When working on future development, you really can't start making plans until you know what kind of money you have to work with. Those in charge of development can base plans off of your forecasted cash flow, year-end projections, and restricted funds reports.
5. When Do We Hire Staff?
In a nonprofit, it's essential to perfectly time the hiring of new staff to ensure you have the additional staff support, ready to roll, when you need it, but don't waste money by hiring too early or miss out on opportunities because you hired too late. Taking a financial perspective on your nonprofit's operations will help you better understand the costs of hiring and training and the time it takes for an employee to function on their own. Looking at these reports will also allow you to better predict when you'll need a new staff member who's been fully trained.
Set Up Your Nonprofit's Financial Management and Reporting Strategy with a Professional
If your nonprofit only uses QuickBooks for transaction processing (such as billing and collections, bill payment, sales tax, payroll, and bank reconciliation), then you're missing out on 75% of the software's potential. When fully integrated into your nonprofit's operations and decision-making, QuickBooks can help you make your nonprofit the best it can be, based on its finances.
Using QuickBooks' advanced features, you can access donor stewardship reports, program and grant reporting features, and board reporting capabilities. You'll be able to make data-driven decisions based on actionable financial intelligence. You'll be able to access cash flow forecasts, key performance indicators, and management reports to increase cash flow, help your organization grow, and to raise more money.
When you pair the complete power of QuickBooks' financial management tools with a fully integrated donor management software solution, the sky's the limit!
At GrowthForce, nonprofit clients receive a financial report matrix. Created specifically for nonprofit management, the nonprofit report matrix is designed to break down financial information into clear, concise, and easy-to-understand actionable data. Learn to harness the full potential of your accounting system with the help of a professional, nonprofit accounting specialist at GrowthForce.