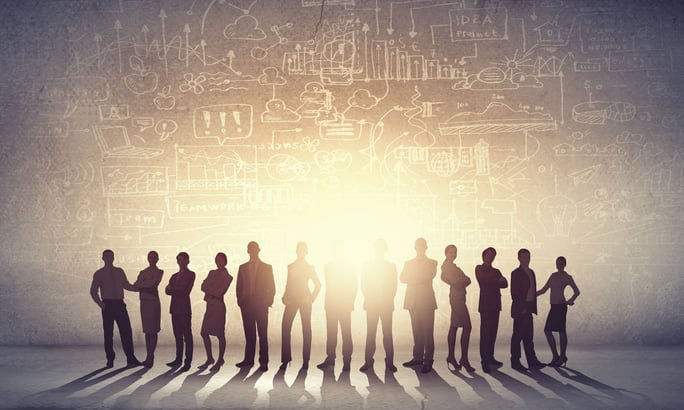 Do you consider your employees an expense of doing business or a profit-contributing asset?
Financially savvy business owners/CEOs understand the return on investment on human capital – viewing their employees as their most important business asset. They recognize that increasing the productivity of their employees can lead to more cash flow and increased profitability.
ROI on Human Capital
Let's look at the revenue impact of improving an employee's productivity by just 15 minutes a day.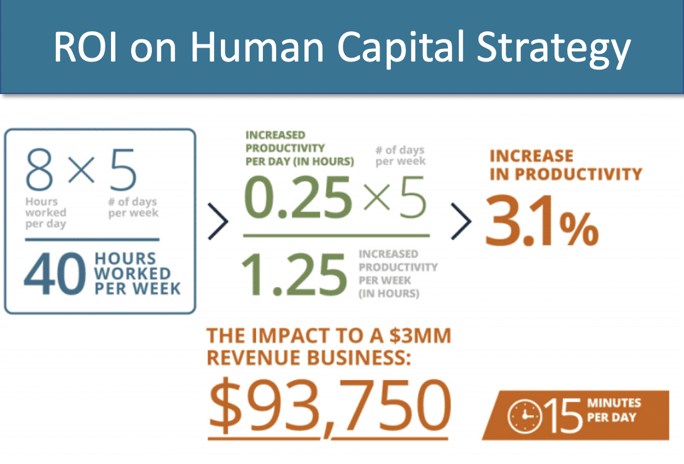 In a typical 40 hour work week, 15 minutes of non-productive, non-billable time equals .25 hours a day, 1.25 hours a week, or 65 total hours a year. For a $3 million business, an increase of productivity of that magnitude translates to more than $93,000 annually.
Just imagine if you could bill 65 more hours a year on a fixed labor cost employee (in other words, generate more revenue with no additional payroll cost). When you multiply that gain across all employees with billable time, your net income would see a hefty increase which would filter down to net profits.
How do your employees drive profits?
To make more money on their employees, shrewd business owners keep in mind the impact of increasing productivity and regularly monitor on how their employees are driving their company's profitability. Remember, profitability isn't the same as cash flow.
One great way to track profitability is to produce a company scorecard or dashboard report.
While traditional dashboards focus solely on financial matters, scorecards can also be created to track the profitability of employees by departments, teams and individuals.
If you want to see how people drive profits, you must combine both "company" and "people" scorecards reflecting your business's key performance indicators. These KPIs charts will show how well you are managing your most important asset – your people.
This scorecard strategy will help any business that makes money on billing people's time see where to focus business efforts to improve profitability.
Scorecards that combine both company and people metrics:
Increase alignment between human resources and accounting by including both financial and people-based metrics in tracking overall company health
Measure and report the connection between employee productivity and progress toward company goals
The People Scorecard
At GrowthForce, we have developed The People Scorecard with six charts that track employees' productivity and their impact on company profitability.
Prepared monthly, these charts measure the basics of income, gross profit and net income across both employees and the company. Depending on the company, an expanded scorecard might track sales figures and service indicators, as well as employee performance and retention.
What to Track
No matter what employee metrics you decide to measure, you should look to identify trends. The orange line on the charts is the trend line. Follow it to see if your numbers are trending up, down or staying the same.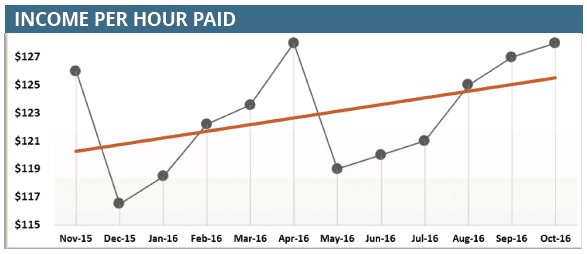 Beyond scanning for trends, a business owner can use the scorecard to answer:
How revenue compares to budget?
How the current month compares to the same month last year?
How seasonality affects your numbers? Are they meeting seasonal expectations?
Actions to Take
When you understand which employees contribute the most to company profits, you can work to duplicate their behaviors in less profitable employees, teams and departments. Make sure the top performers are acknowledged throughout the company for their accomplishments.
Best practices for recognizing the most profitable employees are:
Rewarding staff with the highest gross profit
Turning the best performers into trainers
Providing incentives tied to company gross profit
Typically, recognizing your best performers will entice all your employees to work harder. However, there are many more talent management tactics designed to engage employees that should be included in a business's complete human capital strategy.
Other HR best practices linked to productivity involve lowering turnover, improving the compensation structure and tracking employee satisfaction.
Improve Employee Retention
When a company has high turnover, teams and departments have a hard time being productive. They have to pick up the tasks of the missing employee(s), as well as cover their own job responsibilities.
Therefore, management's goal should be preventing the negative human and financial impacts of turnover.
Because no two employees are alike, when recognizing employees, a company should know what each employee values the most: time or money. If the answer is time, one popular perk is flextime Fridays. If the answer is money, incentives that improve retention should be part of the compensation structure.
Develop an Incentive Compensation Strategy and Pay Structure
Beyond the basic salary, employee compensation must be tied to employee results, not just employee activities. The company's incentive compensation goal should balance employee motivation with its pay structure. Incentive pay must correlate to the key drivers of the business and the current business plan.
How do I get my employees engaged in their jobs?
Once you hire an employee, your job as a manager is to make him or her feel empowered and motivated. Everyone in the company must understand precisely how his or her job is tied to the company's strategic goals, such as revenues, profit and customer satisfaction.
Each employee should also have individual, incentivized goals that work to achieve the larger company goals. Manager incentive pay should be closely tied to department and company goals.
To be more effective, incentive pay should be rewarded quarterly instead of annually, so the positive impacts of employee success are realized year-round. Quarterly payouts also help to normalize company cash flow and expenses.
Summary
By taking the time to refine your company's human capital strategy and recognize your employees as profit-producing assets, you can help increase productivity (even if it's just 15 more minutes a day).
In turn, your business will grow and remain competitive. More importantly, these actions can help better meet the needs of your employees, clients, and, ultimately, and shareholders.