8 min read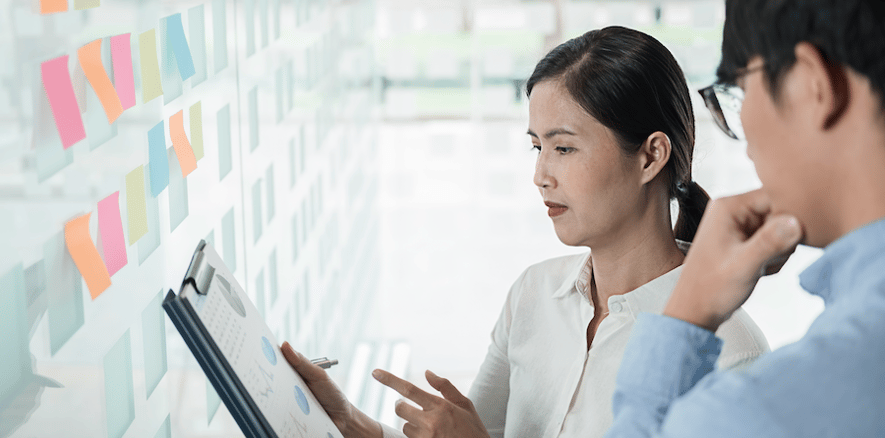 "Which programs should I stop? Which programs best further my mission? Should I be starting a new program?"
If you've ever stopped and asked yourself any of these questions, you're not alone. Most nonprofit leaders deal with these big decisions all the time. Your numbers need to help you make decisions with data and tell your story to donors...
Stack ranking programs enable a nonprofit leader to create a methodology for deciding which programs to stop, start, or continue.
The statistics are staggering. A very large percentage of nonprofits, right now, are struggling. They have budget cuts and have to make hard decisions.
Nonprofits can learn from businesses and use stack ranking to help solve their budgetary problems. Stack ranking your programs helps you make those tough decisions using a data-driven decision methodology to help further your mission based on what's important to you.
First, you need to decide what are the three most important drivers of success. Do you want to:
Increase the quality of services to people you already serve? And/or...

Serve more people; and/or...

Raise more money to grow the number of people you're able to serve?
If you ask this question for each program can strengthen your nonprofit with more outcomes that further your mission. Let's look at what exactly stack ranking is.
What Is Stack Ranking?
If you've ever thought about your top-three or top-five favorite anything, then you've already used stack ranking.
While listing off your favorite restaurants, you probably consider things like quality of food, cost, and atmosphere. Stack ranking in a nonprofit, however, is more specific and data-based because it uses more than your gut to rank programs from best to worst. You measure each program by considering quantifiable aspects of each program to be ranked.
Stack ranking programs in a nonprofit gives you a process to prioritizing programs and, subsequently, help make sure you are maximizing the use of your nonprofit's precious resources.
How to Stack Rank Nonprofit Programs
This stack ranking concept is a variation of a theme learned from Brian Tracy, a world-famous business coach. Tracy's stack ranking methodology helps you rank your priorities in life based on this simple equation:
Priority = Importance x Urgency
In life, Brian says, you can use math to figure where to prioritize your time by ranking your todo list in terms of importance and urgency.
You measure Urgency on a scale of 1 to 5 (1=today, =some day) and importance on a scale of 1 to 3 (1=Must do, 2=Should do, 3= Want to do).
By multiplying the two numbers you can quickly get separation of what's most important- 1's and 2s- and everything else that can be put off. Now prioritization is simple math.
At GrowthForce, we suggest nonprofit clients use stack ranking by combining gut feel with actual data on program efficiency and do this in a three-driver equation:
Quality x Quantity x Money = Ranking Priority
To stack rank each program you measure, on a scale of 1 to 3 (most to least), each program based on how well the program increases:
Quality - how well the program achieves its purpose or increases/decreases the quality of service to existing people
Quantity - how well the program increases the number of people served
Money - how well the service generates money
If you rank your programs this way, you can quickly identify which serves your mission best and which are actually holding back your mission.
3 Ways to Put Stack Ranking to Work for Your Nonprofit
1. See which Programs create the most Outcomes With a "Zero-Based" Mindset
Typically, in an organization, nonprofit budgeting builds and improves upon the budget from the previous financial period to increase accuracy and forecasting. This is called baseline budgeting. Your last year spend becomes the baseline for this year's proposed budget.
The problem is this assumes the money you are already spending is the most effective use of your limited dollars. Zero-based budgeting solves that problem, but it's time-consuming and expensive to maintain.
This stack ranking process, however, helps you identify the programs that are best working for your cause and any that might actually be working against it. With stack ranking, you can figure out how to eliminate your least effective programs and further your mission by expanding your most effective programs.
When stack ranking programs with the goal of eliminating and/or increasing a few key programs, you'll need to start from scratch with a new budget. This is very much like the zero-based budgeting approach used in for-profit businesses.
Read More: Can Zero-Based Budgeting Drive Growth In Your Business?
While it can seem daunting and a bit scary to start over, when it comes to your nonprofit's budget, stack ranking programs will enable you, and your board, to create a more strategic budget based on data and make decisions that help you to make the most of your lean resources.
2. More Effective Board Meetings
The board's #1 responsibility is to hire the Executive Director ("ED") and to make sure they have the resources to enable the ED to do their job well.
Most board members react to whatever you put in front of them. If you share a multi-page P&L that shows budget vs actual, you'll find board members focused on minutia because they aren't looking at actionable strategic financial information.
For example - how many times has a board discussion devolved into inane financial questions, like why technology spend is over budget, instead of the strategy things you early need help with?
At budget time, in particular, your board meetings need to be driven by strategic reports. Having a stack ranking of your programs starts the process of helping use the board meetings to having meaningful strategic conversations.
Actionable Insights = Better, More Strategic Meetings
Stack ranking is a clear, easily readable, and understandable method for presenting data. As a result, evaluating your stack-ranked programs with your nonprofit board provides a simple way to assess each program's efficacy, cost, and value to your nonprofit's mission.
3. Driving Donations
Stack ranking programs help you identify which of your programs are the most effectively run. Which ones create the best outcomes and generate the most ROI based on your mission?
By showing the number of people served per dollar dedicated to a specific program, and combining that with the cost to serve each person, you can help drive donations by showing your donors how their gift makes a difference. You'll get higher average gifts and more frequent giving when you can demonstrate how your nonprofit puts your donors' money to good use.
Read More: Raise More Money By Showing Donors The ROI Of Their Gift
At the end of Q3, many nonprofits start thinking about the year-end appeal. That's when donor-driven organizations get most of their money. This stack ranking process helps you identify and planning out your year-end appeal message. If you want to raise more from mid-November to late December, start in October to figure out how to tell stories that show where you get the biggest bang for your buck.
With the current new world challenges, a lot of nonprofits are really struggling with their message. While donors are still out looking to contribute, it's harder for them to figure out where to make a smart contribution. The stack ranking exercise allows management and the board of directors, to able to identify the programs or people they're going to have to cut if they don't have the funding.
The most powerful part of stack ranking is it allows you to go to the donors and show the programs that have the biggest impact on you while showing them tangible results of their gifts.
Using Unit Economics to Stack Rank Programs by Profit and Loss
When we stack rank service programs in a nonprofit, we look at how well it increases the quality of services, expands the quantity of services, and how effectively the programs drive income. This rank occurs on a simple scale rated from 1 to 3.
You know which programs are most central to your cause, which are most needed in your community, and which you're best able to provide. But how do you know which programs drive more outcomes per dollar than the others?
You can identify the programs in your nonprofit that help cash flow with an outsourced accounting team using an automated back office to automate labor allocation, expense tracking, and categorization and get management reporting. A robust back office allows you to see the unit economics of your programs in detail.
With a high-functioning back office, you pull a profit & loss statement by program and evaluate the true cost of each program, each individual served by that program, and even identify the amount of income generated by each program. This process can stack rank programs by their actual profit margins – rather than basing the money ranking of programs on your best guess.
As a result, you'll be able to effectively, efficiently, and accurately stack rank your programs and discuss the information with your board. Together, you'll make difficult decisions about cuts or new programs to generate a more strategic budget. In turn- your staff can create a service and development plan to strengthen your organization and further your mission in the future.
Track Your Results With A Robust- Yet Affordable- Back Office
Stack ranking helps you see which programs are most impactful to your mission. To measure its true effectiveness, it's crucial to keep your finger on the pulse of your programs and monitor key metrics.
Attempting to track metrics related to your nonprofit's impact – without a system of robust, streamlined accounting tools – will only drain your already limited resources.
With over 35 years of Nonprofit financial management experience- we've seen firsthand the impact looking at your numbers can make. Learn more about how our Team + Technology approach helps nonprofits serve more people and raise more money. We are passionate about Accounting for Nonprofits to help you use your back office as a platform for growth. We can provide the expertise you need to help your nonprofit drive your mission forward.