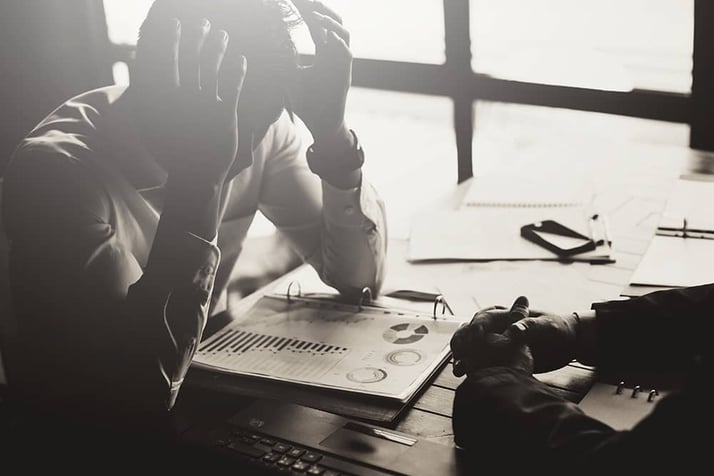 In business, a single point of failure (SPoF) is defined as a solitary problem that leads to an entire business's demise by completely shutting down its source of revenue. These types of failures in business often occur due to one person carrying out fraudulent activities. Human SPoFs also crop up for reasons other than dishonesty, such as an individual's lack of knowledge or experience.
Other times, SpoFs occur for reasons other than a company's human capital, such as an equipment failure or a natural disaster that completely halts operations. Businesses often fail as a result of unforeseen costs or due to security breaches that could have been prevented.
Whether your business's SPoFs are people or other problems, you can establish processes and procedures – especially when it comes to your company's financial functions – in order to prevent, identify, and eliminate, the single point of failure in your company.
9 Common Sources

of Single Points of Failure in Business
1. Costs
To ensure your company makes more than it spends, it's important to track job costs and profit margins. What happens when your costs go up? Or you spend more than budgeted? When you're short on cash, you start making hasty decisions. Those bad business decisions lead to cash flow issues. Cash flow issues are the #1 reason why businesses fail. When you don't have control over or monitor your costs, you put your business in a situation that could quickly lead to failure.
2. Pricing
Once you are in a cash flow crunch, your decision-making ability is further impacted by a lack of resources and fear, like discounts on pricing. If you have a 30% margin, offering just a 10% discount means you need 50% more sales to make the same profit. Those pricing discounts lead to cash flow issues. Unfortunately, many business owners simply don't spend enough time studying job costing and pricing. It's the most vital component to making money, and ultimately staying in business.
3. Accounting Software
Businesses rely heavily on software for day-to-day financial operations. What happens if your company's financial software is not secure? Does every user have their own login? Do you limit access to reduce the risk of fraud? How do software integrations help eliminate manual processes to prevent mistakes?
Mistakes and inefficiencies can cause serious problems in your accounting system. Vulnerabilities from lack of internal controls could lead to failure over time with potential unrecoverable losses.
4. Limited Reporting & Analysis
Your business needs financial reporting for compliance to make sure the numbers are adding up and to prevent cash flow problems. You also need management reporting so you can make better business decisions backed by solid data.
As the CEO or Business owner, do you have information readily available to answer these questions:
• Am I pricing my jobs right?
• Who are my most profitable customers?
• Do I have enough cash to make payroll?
• Who are my most and least productive staff?
• Are my operating margins better this quarter than last?
If you don't receive management reporting each month, you are missing the most important information to help your company grow or, worse, cause a SPoF that can take you down. It also helps prevent you from implementing costly programs that don't provide an ROI.
5. No Written Goals
It's one thing to know in your head what your goals are, but writing them down, and measuring whether you're reaching them, is the best way to actually turn them into reality. Written goals provide a way to hold everyone accountable for what's happening in your business. This also helps tie an employee's recognition and reward to company goals that are driven by measurable objectives — usually profit, client, and employee satisfaction.
Writing down your business financial goals is a big step toward success. It's the key to taking control of your business and increasing profitability. If you don't know what success means for your business, your employees won't either. Writing down and discussing specific goals for your business helps everyone understand what to work toward.
6. Bad Management
Management plays an important role and has a big impact on the success of your business. People join companies and quit managers. Unmotivated employees, teams that are improperly communicating with each other, lack of planning and organization, micromanaging instead of supporting could all cause underlying issues that potentially hurt a business. One bad apple can bring the whole team down.
7. Employee Fraud
Internal business fraud, committed by employees, is much more common in small and medium-sized businesses than it is in large companies. Trusted employees are often culprits. The longer an employee has been with a business, the greater losses incurred. This type of fraud often leads to significant monetary losses for businesses, damages a company's reputation, and has a negative impact on workplace culture.
8. Negative Culture
If you have a great culture, you will have high-performing teams. It's that simple. They will figure things out on their own. Your turnover will be lower. Your people will be happy and motivated. Once you start recruiting for behaviors, not skills to pay the bills, your culture congeals and your profits will soar as a direct result.
9. Unplanned Turnover
The cost of turnover has a big impact on your business. It's an important issue to pay attention to. In addition to the cost of hiring, replacing, training employees, any individual holding significant responsibilities also puts the company at risk in the event they can suddenly no longer perform their duties.
People in a business can be SPoFs for many reasons: dishonesty, fraud, illegal behavior, mistakes, lack of knowledge, and limited experience.
7 Tips to Eliminate

Single Points of Failure in Your Business
1. Write a Business Continuity Plan
The purpose of a business continuity plan is to think about all of the potential problems that could interrupt your business and outline contingency plans for each event. Problems that interrupt business operations might include equipment failures, security breaches, software crashes, natural disasters, power or internet outages or even the loss of an integral member of your company.
Creating a business continuity plan will make you aware of potential SPoFs and prepare you to handle these problems if they ever occur.
2. Write Down Your Business Plan
Use a business plan to outline your company's goals and the strategies you have in place to reach those goals. You should also define the key drivers and performance indicators which you will use to measure your progress toward goals on a business-wide level and a business-unit level (by department, employee, service, etc.).
Share your business plan with employees and hold regular meetings to keep your team up to date on progress and/or adjustments to the plan.
3. Define a Human Capital Strategy
Part of your business plan should include a human capital strategy, which outlines the human resources and skills your business requires to function, grow, and succeed. You should have a plan in place for recruiting, retaining, and backing up essential personnel. Use your sales scorecard as a leading indicator for your back office to anticipate staffing needs before they arise to implement perfectly timed hiring, training, and onboarding.
How Defining a Human Capital Strategy Will Affect Your Profits
4. Prevent, Reduce, and Detect Internal Fraud
Small and medium-sized business owners often find it difficult to implement robust fraud-prevention policies and procedures. No matter how well you know your employees and how much you trust them, these procedures should be in place to protect not only your business, but also your honest employees.
Some simple fraud prevention and detection measures include:
Separating duties (For example, check writers should not reconcile bank accounts, and receivables should be opened and posted by separate individuals)
Minimizing skimming opportunities by eliminating cash
Using and auditing purchase orders
Requiring periodic password changes on computer systems.
Establishing methodical accounting systems
Recognizing the signs of fraud
By designing and implementing simple systems to prevent and detect fraud, you will eliminate this potential single point of failure.
5. Shine a Light on Hidden Costs
A smart financial management system will make you aware of your company's true cost of doing business. You will know exactly how much it costs you to provide a service or product and how much you actually spend on each hour of an employee's time. You will be able to truly understand your profit and loss statements and whether each area of business is truly profitable.
Understanding your company's true costs, allows you to set up an optimal pricing structure and foresee cash flow shortages. Being unaware of these types of hidden costs can a SPoF to put your company out of business.
To illuminate hidden costs and optimize pricing, establish a bookkeeping and accounting system that not only caters to regulatory compliance and taxes, but also to business management, unit economics, financial intelligence, and tracking key performance indicators.
6. Shift Risk to an Outsourced Provider
When you hire an outsourced client accounting services (CAS) provider, you shift a large portion of risk from your company onto your CAS provider. This includes risks associated with compliance, financial software, separation of duties, internal fraud in your bookkeeping department, and risks with employee turnover.
Your outsourced provider becomes responsible for ensuring these details are handled well, and the only risk on your company is in selecting a proven, high-quality, reliable provider.
7. Cut Costs and Gain Expertise from Client Accounting Services
With an outsourced bookkeeping provider, your costs adjust to the needs and size of your business. You pay just in time from a menu of services that evolve as our business life cycle needs change - up or down, month to month.
Ou get what you need, when you need it. If it's only a single bookkeeper or an entire accounting department. with bookkeepers, CPAs, controllers, and a CFO's expertise. With a CAS provider, you can transform your bookkeeping department into a financial powerhouse with up-to-date financial data and insights that allow you to mitigate risk, identify troublesome hidden costs, forecast cash flow challenges, and make data-driven decisions to lead your business with confidence.
Partner with GrowthForce to Safeguard Your Business's Future
We can't protect your business from every ever-changing government regulation or a natural disaster, but we can fortify your company from the inside-out to help you build a solid financial and operational infrastructure strong enough to weather even the most brutal external storms.
Partnering with GrowthForce, you receive access to an entire team of financial experts with built-in risk reduction, cash management and profit enhancement. With a tight hold on your company's finances provided by GrowthForce, you can worry less about crashing and burning and focus more on successfully leading your business into the future.
How does it work? Schedule a demo...