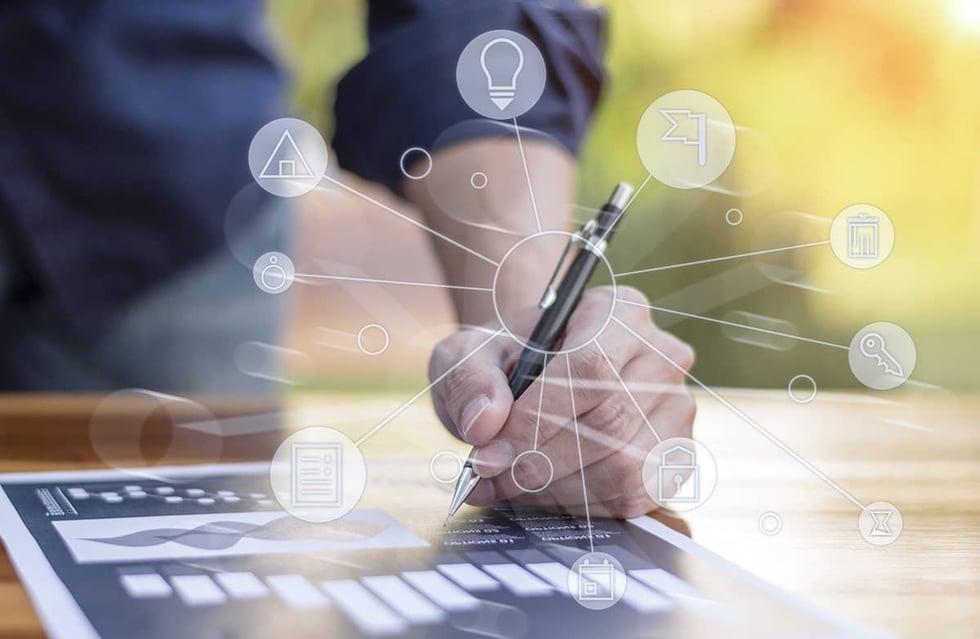 "Without continual growth and progress, such words as improvement, achievement, and success have no meaning."
- Benjamin Franklin
Wise words from Benjamin Franklin likely spark thoughts of what continual growth and progress mean to your growing business.
"How can my business reach the point that leads to continual growth?"
"What type of progress does my business need so growth is sustainable?"
"Where should I focus so my business can better scale for growth?"
Throughout the four common stages in the business cycle – expansion, peak, contraction and trough – strategies that work in one stage may not work in another.
You can reach a plateau in any of those four stages, because as your business transitions from one stage to the next, following the same strategy doesn't always produce the same results. Consequently, your business growth may start to taper off and eventually level out.
84% of both small and mid-sized businesses ($5M - $100M in revenue) owners expect their business to perform better in 2018 than in 2017, up from 72% the previous year.
90% of both small and mid-sized businesses are confident that their business will grow in 2018, compared to 80% in Q4 2016. Expectations for Small Business Growth in 2018 on the Rise as Confidence in the U.S. Economy Steadies
So how do you build a business with sustainable, scalable, strategic growth?
In this article, we hope to help you feel as confident as the 90% of SMBs who expect their business will grow this year. We share how to diversify your growth strategies by focusing on the five core initiatives, develop operational efficiency by establishing a foundation for growth, and make better business decisions by using Key Performance Indicators (KPIs) and management reporting.
Sustainable Growth - Diversify Initiatives
A recent article from our friends at Chief Outsiders, shares insight from a Vistage Research study on Growth - What's Driving Double-Digit Growth in SMBs?
Latest Vistage Research Provides Important New Insight to Growth
The research shows that the difference between high growth and low to no growth businesses is the result of diversifying the five core strategies.
The five core elements of a customer growth strategy are common for all businesses:
Expand/retain existing customers

Serve new markets and customers

Create operational efficiencies to better scale for growth

Introduce new products and capabilities

Grow the sales force
"High growth companies deploy each of these tactics more often. In addition, high growth companies tend to initiate all of these strategies more often (30% of the time). What's interesting here, is that companies believe they can grow without adding sales capacity" - Pete Hayes Chief Outsiders
High-growth SMBs are up to 31 percent more likely to invest in these customer growth strategies than those with no-growth. 3 Strategies from High-Growth Small Business CEOs Revealed
Scalable Growth - Operational Efficiency
As a business leader, it's important to look for ways to enhance financial intelligence, improve operational efficiency, and build peace of mind in your business. Business process automation is a good starting point to help you do that, but only if you use the right tools. 10 Ways to Improve Small Business Accounts & Finance Systems
A solid foundation for growth needs operational efficiency and what we like to call a "smart back office" - a more efficient and optimized workflow for your back office functions.
How do you get a smart back office to drive growth?
You need to define your key areas of back office management, implement separation of duties, and optimize your accounting and financial systems, in order to implement smart back office to provide a foundation for scalable growth.
In order to maximize operational efficiency, you must be able to measure it. You should not only look at the inputs, the financial numbers, but also create procedures to measure your outputs, performance, quality, effectiveness, client satisfaction.
Strategic Growth - Data-Driven Decision Making
To make strategic decisions backed by data instead of going with your gut, you'll need management reporting.
Management reports allow you to dive deeper into the financial standing of your business. Unlike traditional financial reporting, management reports help CEOs and business owners to really understand who their most profitable clients are, what makes them profitable, and figure out if they are pricing their jobs right.
Some CEOs think that financial reporting is enough to effectively run their company. However, traditional financial reporting does not provide the actionable financial information you need to make more informed strategic decisions. To drive performance of your people, to understand profitability of your customers, to analyze pricing and your marketing spend… you need to develop a management reporting package.
The key is to start with the end in mind, then distill the drivers of your business and create a reporting package that helps you measure performance against that data so you can make better decisions.
Passion and good preparation aren't enough for sustainable, scalable business growth. By having a strategic mindset, diversified growth strategies, and efficient operations, you will have the pieces in place to drive sustainable growth for your business.