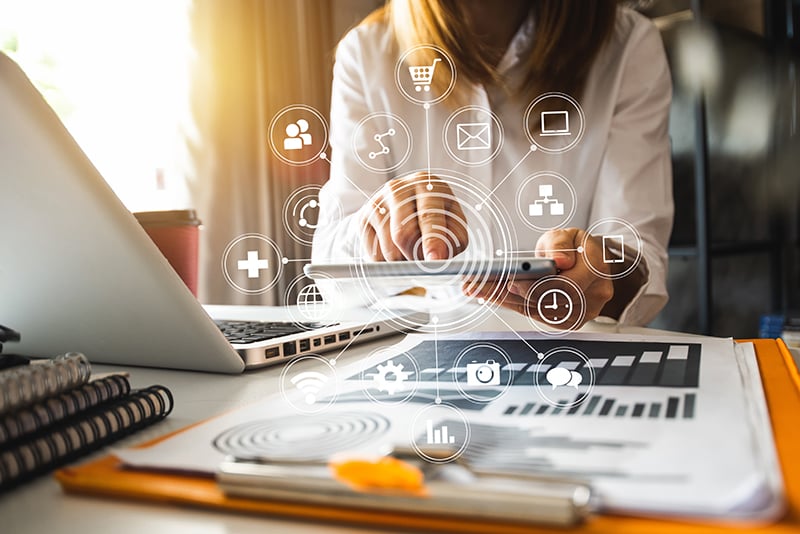 One of the primary goals of any successful business is to keep costs as low as possible, by cutting expenses in creative ways, without sacrificing the quality of products or services.
One of the most effective ways small and medium-sized businesses reduce expenses is by contracting professionals to handle tasks which fall outside of the company's primary function, rather than hiring in-house employees. For example, a marketing and advertising agency likely handles its own sales, but would work with an outside design firm or freelancers for graphic design needs. Conversely, rather than hiring full-time employees, that same design firm likely contracts an outside marketing agency for their marketing and advertising needs.
The increasing demand for business services and the convenience of the internet has led to a variety of options for hiring bookkeepers and accountants online. But how do you sort out the quality services from those less desirable options and how do you know which services will be the best fit for your company?
Is there a difference between virtual vs online vs outsourced bookkeeping and accounting? What do all of these options mean for you? Read on...
Virtual vs. Online Bookkeeping and Accounting Services
When referencing bookkeeping and accounting services, the terms "virtual", "online" and "outsourced" are sometimes used interchangeably. Although they follow a similar concept and provide similar services, further research, does reveal that there are in fact some fairly significant differences between the two.
Virtual Bookkeeping and Accounting
Sometimes virtual bookkeeping and accounting can simply be a generic way of saying bookkeeping and accounting services obtained through the internet. Virtual can mean working with a person or persons online, not locally, and mainly through computers and an online network.
Virtual bookkeeping and accounting, however, also sometimes indicates a single person working as a bookkeeper from home. While some might be quite capable, virtual bookkeepers often lack up to date training, access to robust technology and they typically do not have other associates available to ask for advice or to back up their services if they fall ill or go on vacation.
These types of bookkeeping and accounting services are not designed to facilitate management accounting and, obtained over the internet, can often lead to mistakes and inaccurate finances, unintentional regulatory non-compliance, risk of fraud, ill-equipped technology, messy accounting systems and neglected financial warning signs that can lead to business failure.
This type of virtual bookkeeping and accounting service is similar to hiring a part-time bookkeeper to help with payroll, accounts payable, accounts receivable or other regular bookkeeping tasks.
Due to the risks of hiring online, businesses seeking this type of bookkeeping and accounting assistance would likely be better off hiring someone locally to avoid the risk of giving an anonymous individual access to your records and potentially to your electronic files.
Online Bookkeeping and Accounting
Online bookkeeping and accounting typically refers to a more robust service available through the internet. These companies usually offer a service and software package with a monthly and annual reporting structure. This type of bookkeeping and accounting service is a great option for small businesses that do not yet have major financial requirements.
An online bookkeeping and accounting company handles the function of a part-time bookkeeper and accountant and also strengthens and streamlines the bookkeeping and accounting functions with technology.
While you should not have to worry about inconsistencies or outdated practices with online bookkeeping services, they usually only handle financial maintenance (i.e. payroll, record keeping, taxes and reporting); they do not typically offer the management accounting strategies and data insights that are available with more personalized services which can provide a team member to function as your business's chief financial officer.
Save Time and Money by Reducing In-House Costs
The concept of sourcing these necessary business functions outside of a business not only saves money by reducing the costs associated with full-time employees, but it also allows you and your staff to spend your time and resources doing what you do best – not on hiring, managing, training, and maintaining staff.
When a company is growing and the bookkeeping and accounting becomes too demanding, many business owners consider hiring more staff – a full-time bookkeeper and in-house accountant to help lighten the burden. This, however, can become quite costly and likely takes more CEO and Management time to oversee this staff, leading to inconsistent financial management, disorganized systems and a lack of oversight.
What Are Outsourced Bookkeeping and Accounting Services?
The term "outsourced" is sometimes used to reference services located overseas, but outsourcing really only means sourcing certain department functions outside of your company or not using in-house employees. In that sense, overseas, virtual and online accounting services are all technically outsourced.
While some virtual and online bookkeepers and accountants are located overseas, there are firms right here in the U.S. outsourced client accounting services (CAS) refer to a type of cloud-based bookkeeping and accounting which takes the service and software model far beyond that of an online bookkeeping and accounting company.
This new model provides an improved, scalable service option which growing small and medium-sized business can leverage to improve cash flow and increase profits, without also increasing expenses.
The Power of Outsourced Client Accounting Services
Outsourced bookkeeping and accounting services have the power to completely transform growing small and medium-sized businesses for the better.
Companies using an outsourced CAS provider have the ability to access a fully functioning bookkeeping and accounting department with the capabilities of a full-time staff, without the price tag and additional challenges (turnover, training, illness and vacations) that come with hiring in-house.
Outsourced bookkeeping and accounting services provide you with all of the financial data and insights of a smart back office and as much access as you need to a finance department at a fraction of the cost of an in-house bookkeeping and accounting department.
What Can GrowthForce's Outsourced Client Accounting Services Do for Your Business?
GrowthForce's outsourced bookkeeping and accounting services pair your business with a team of highly trained, experienced and certified financial professionals and give you complete access to a robust suite of QuickBooks accounting software and additional fully integrated, thoroughly tested technology tools to:
streamline your day to day bookkeeping function

give you access to accurate historic and current financial data

devise data-driven decisions and financial strategies

provide heightened financial security

improve efficiency, organization and operations

improve cash flow and increase working capital

increase revenue, profit margins, profits and grow your business
The most professional bookkeeping and accounting services option available through the internet, GrowthForce's outsourced client accounting services can help your growing business reach the next level.