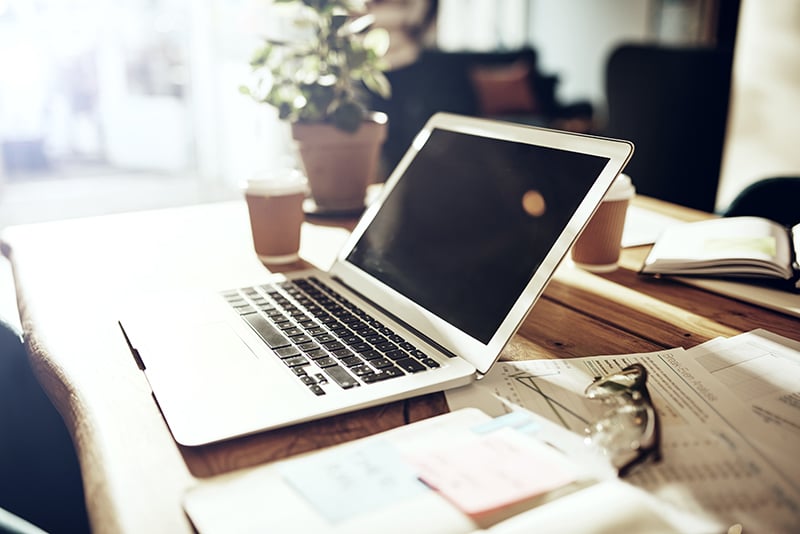 Spring gives us a feeling of renewal. Nudging us to make positive changes.
For business owners, this time of year should urge us to 'spring clean' the processes and procedures of our business (while at the same time getting a clear view of what's not working).
There's no better time than in the spring to 'declutter' and make sure your business is prepared for growth.
Here are some smart tips to help you get more organized before the summer:
1. Go Paperless – this is a BIG One!
Seems obvious, but we're often surprised about how many businesses still use paper for things like billing, checks and proposals for example. It costs more, is more time consuming, and elevates opportunity for risk.
Is your office buried in paperwork? Take the time to clean house and consider going paperless. There's a big pay-off to going paperless in your business and its an important first step to really getting your finances in order.
Some of the big benefits you'll notice right away are reductions in expenses, improved efficiency, and added security.
Also the convenience of having your data at your fingertips with cloud-based services gives you access to secure information anytime and anywhere.
Bank and Credit Card Statements - Check Duplicates
There's a good chance that you've already adopted some form of online banking or credit card statement downloads. Why not take it a step further by opting out of paper entirely and getting into electronic bank statements, check copies and credit card statements?
Most major banks and credit card companies offer a host of services that are managed and executed online in their entirety. The first step is to set up logins for selected members of your organization and choose delivery and notification options from the available services.
To get the most out of this service, integrate your bookkeeping with your bank and credit card accounts; many of them work with QuickBooks® and other standard accounting systems you may be using.
Pay Day Paper - Invoices, Bills and Pay Checks
The process of billing a customer can be a paper drain, especially when detailed invoices and return envelopes are included. Conversely, remitting payment to your vendors typically costs you a paper check, maybe a mailing envelope, stamp, and a few photocopies for good measure.
At GrowthForce, we eliminate the need for paper invoices, checks, mailing envelopes and photocopies by using Bill.com® to manage our payables and receivables.
You can save time with single click payments and automated future payments by using the online payment capabilities of Bill.com. You can also help your business to go green by transitioning these systems to a paperless option. You will have the added benefit of dramatically reducing the time from invoice to payment, which gives you a better handle on your cash flow.
Payroll is another area where you can go paperless and rack up those savings. Encourage your employees to submit their work hours electronically and get paid by direct deposit. We at GrowthForce have eliminated the need for paper time sheets, paychecks and corresponding mailing envelopes.
We use Insperity™ for our employee payroll and benefit administration services, and our employees have the opportunity to review pay stubs, change deductions etc. with a single click, drastically reducing our paper costs.
Spreadsheets and Financial Reports
If you're really serious about the power of going paperless, transition to a cloud-hosted accounting system and you'll see a big difference in the amount of paper traveling into and out of your back office. For businesses using QuickBooks, you can take advantage of the many cloud-based tools they offer.
Web-based accounting systems give you the freedom to manage your entire bookkeeping operation remotely, so you can access and distribute financial reports and dashboard KPI's from your laptop, or even your smart phone. You'll keep your entire team on the same electronic page, and you can leave your briefcase at home.

At GrowthForce, we provide outsourced bookkeeping and controller services to our clients either through QuickBooks Online or by accessing their QuickBooks files online via Right Networks – Intuit's exclusive provider of the QuickBooks Enterprise Solutions Hosting Service.
Right Networks offers a virtual desktop to users, making the transition to the cloud world easy for businesses. By hosting their QuickBooks files on Right Networks, our clients work seamlessly with their GrowthForce bookkeeping team, accessing shared files with the added reliability, security and data protection offered by a hosted network. In addition, many of our clients are able to use QuickBooks Online as that platform continues to mature.
2. Review all Outstanding Invoices
Effectively managing your credit and collections is essential to your company's financial health. You should review outstanding invoices on a regular basis however, you should also take the time to do a "deep clean" of your accounts receivable. It's a good idea to review monthly, but if you haven't been deep cleaning your accounts receivable, it's time to get a handle on this.

Use your accounting system to run reports and pull every unpaid invoice for the year-to-date. This report will offer you a quick snapshot of the list of customers who have outstanding invoices. You can quickly see which customers owe you money when the invoice was due as well as the amount due.
Read: 3 tips to reduce your Days Sales Outstanding (DSO)
Reviewing a report of your outstanding invoices allows you to monitor the clients/customers who take too long to pay, and helps you to make sure you get those payments.
The total tally of money owed to your business at the end of the report should be motivation enough for you to spend the time and effort to ensure you're on top of managing cash flow!
3. Review your Service Agreements
It may sound obtuse, but it's worth mentioning because this is something often overlooked. It can be easy enough, especially with credit card payments and automated bill-pay, to neglect to review your service agreements with your vendors and suppliers. It seems like such an unimportant task especially when most or all of the bills are getting paid on time.
However, if you do not stay informed on the fine print associated with these agreements you may encounter unpleasant surprises down the road.
As an example, there may be an expiration date for discounts – you might be paying the promotional period rate for a specific service without realizing the cost will increase significantly in a few months. Or a vendor may have taken away deliverables from his or her services while continuing to charge you the same fees.
Take note of expiration dates or charges that are not fixed. Set time aside for reviewing existing service agreements; and if you notice specific terms that could change in the near future, make a note and contact the service provider to see if you can negotiate a better deal.
4. Ensure Data Integrity
A lot of small and medium-sized businesses use a digital accounting solution, such as QuickBooks. While QuickBooks inherently does a good job at keeping all of your financial data backed-up, occasionally something happens (i.e. human error, a system bug, a power surge etc.) that can potentially corrupt your QuickBooks Pro, Premier or Enterprise data file.
Have your Bookkeeper does a thorough review of your QuickBooks Desktop files and make sure they are backed up completely and regularly.
If any issues are found, follow these steps to identify and repair any QuickBooks data corruption. Keep in mind that software support services will eventually expire for outdated versions of accounting software such as QuickBooks, and making sure you stay current is essential, so you're not left in the dark if a problem does occur with your file.
Cleaning up and de-cluttering your business doesn't have to be a herculean task! Set aside some time to review the items that will really help streamline your organization.
Spring cleaning your accounting system by talking to an expert. Get a free 30-minute consultation to see how you can optimize your accounting system...