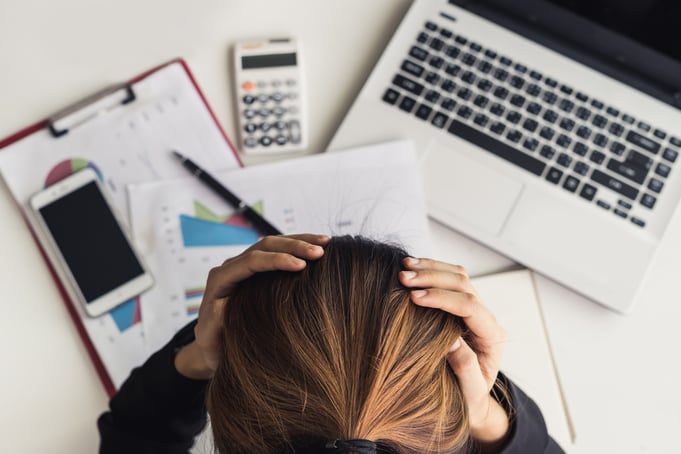 A Guide On How & Where to Make Cuts During Financial Uncertainty.
Business owners have to pivot their current business operations to keep up with today's environment. Oftentimes, this involves making difficult cuts to stay afloat.
The million dollar question: Where do you make the cuts?
The answer lies in your below the line expenses.
Now more than ever, it is important to have the data at your fingertips to be making the right decisions.
How do you make the right decisions?
First, before you start making any decisions- get the data you need.
During financial uncertainty, with emotions running high, many business owners react on their gut. This is the worst thing you can do, as it can lead to detrimental decisions you can't pull yourself out of.
There are two types of reports leadership can look at: financial reports and management reports. The core difference between management reports and financial reports?
Financial reports are not actionable.
If Leadership is considering making cuts, they should be looking at management reports.
How do you get management reports?
We've put together a report matrix guide that helps you know what reports to look at.
Management reports will help clearly lay out your above the line, and below the line.
Your above the line costs are the costs that are making you income. These are the direct costs that your customer directly pay for. There's only two parts of above the line cost:
Direct Labor: Labor that earns you income (what you billed the customer for)
Direct Materials: The stuff (equipment, material) you have to buy in order to finish the job.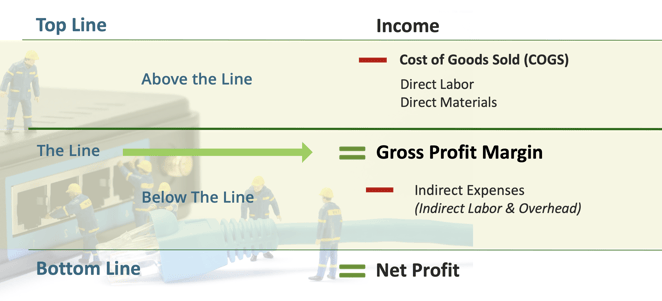 Everything else is below the line. Below the line costs are not part of your core competencies, but still contribute to your businesses success.
When making cuts, you want to first look at your below the line.
Below The Line: The First To Go
It's time to focus on the below the line expenses. Your below the line cuts will be the first to go.
Why? Because these costs are not directly making you any income. These are your indirect cost and not your core competency.
Here is a list of the eight categories that fall under your below the line expenses:
Look at each of these categories separately with a fine tooth comb to see how you can get those costs as low as possible.
Cut All Non-Essential COSTS
Eliminate nonessential expenses as much as possible. These are items that were nice to have, but were not vital in keeping your company alive.
Ask yourself, is that activity necessary? If not, it's time to cut it. Simple solutions can go a long way to make a difference.
Use this cheat sheet on suggested cuts:
People are not in the office: Cut cleaning crew down to once or twice a week.
Not generating paper: No longer having to pay for a paper shredder/ extra paper. People are working remotely now and everything can be on the cloud.
Subscriptions: Go through your current monthly subscriptions- those $50 a month magazine subscriptions add up!
Onsite costs are decreasing: Take advantage of the remote working environment.
Cut non-essential company events: Make cuts to company meetings, parties, or any extra curricular event.
Look Into Outsourcing
Outsourcing is a strategic way to turn your fixed back office costs into a variable back office costs. If your business is struggling, you need to have as much variable cost as possible, so you can adjust and lower those costs.
Outsourcing non-competencies (HR , IT, accounting , legal) is not only an efficient, but also a cost effective solution.
For example, outsourcing bookkeeping functions typically costs 30-40% less than an in-house bookkeeper.
Use one-page checklist on things to consider when choosing an outsourced partners:
It's important to adapt to the changes both tactfully and strategically. Outsourcing is a great way to increase value and lower costs, so you can focus on strengthening your core competencies.
Click below for the full Guide to Outsourcing for the steps you need to figure out what should you outsource, how to choose an outsource provider of all those eight categories, and what should be in the contract before handing off.