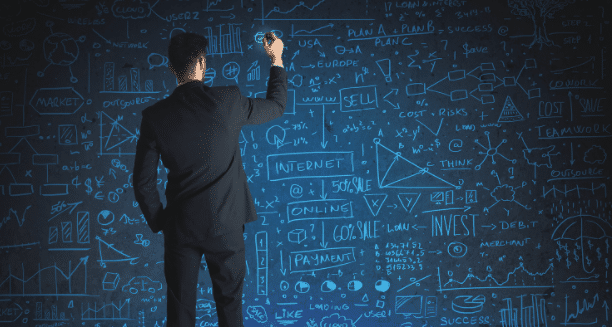 Growing a business takes clarity, and the ability to both map out and follow through your vision with unwavering confidence. You simply can't do this with dreams and aspirations; you need standardization to achieve scalability.
In order to scale, service businesses need to develop something that's all too often an afterthought and certainly not as sexy as innovative thinking - standardizing processes and operations!
Scalability allows a company to successfully grow and adapt to increased volume without compromising on quality, performance, service, or any element that's key to the business.
Unfortunately, it's not unusual for business owners to put the cart before the horse, so to speak. When growth is put ahead of building a scalable infrastructure, leaders are likely setting themselves up for major obstacles when their business starts expanding.
At GrowthForce, we've spent more than a decade providing accounting services and bookkeeping solutions to our clients. We've grown into a happy, prosperous company that SMBs all over the country look to when they're ready to outsource their bookkeeping and accounting functions. Of course, it wasn't always this way.
As a service start-up, we had our share of lessons to learn. We wouldn't be where we are today if we hadn't focused on scalability early on. With this in mind, here are some key lessons that are fundamental to any service business that is looking to grow.
1. Onboarding Standardization
Consistency is imperative to the success of any business. You want to make sure that each customer receives the same time, attention, and quality of work. This is particularly important during the onboarding phase since an in-depth discovery process is a key to a strong relationship.
Once upon a time, GrowthForce clients were onboarded by the services teams who would be managing their accounts going forward. Over time, we discovered this approach to onboarding made it difficult to create consistency and quality control.
We came to recognize that the people who design and customize accounting systems have very different skill sets from those who maintain it.
Today, we operate with a centralized onboarding process. It's all about putting the right people in the right places throughout the process.
One Process, Two Perspectives
At GrowthForce, we're careful to utilize our employees' skill sets in a manner, which benefits both our internal and external customers.
"Process People."

We go outside of the traditional onboarding model by putting our right-brained, creative problem-solvers at the helm of the onboarding process. This means our clients have direct access to the people who specialize in designing their financial systems. During the discovery phase, our developers can easily customize the platform to each client's needs. Having a centralized onboarding process also makes training easier and ensures a consistent experience across all our accounts. This is simply not possible with many traditional CPA firms, as new clients are typically onboarded by the client services teams who maintain the accounts.
"Rules People." We don't hand off clients to our client services teams until they're all set up and ready to go. Once the design phase is complete, our left-brained, linear-minded team members are ready to take over, analyzing the numbers and managing the accounting. There's typically a month overlap where they work together to tweak the system, while reconciling every balance sheet account so the finished product is a well designed and documented process with solid numbers behind it.

Small businesses that want to grow must develop and refine a solid onboarding process, which encourages scalability.
2. Core Function Standardization
The second part of scalability focuses on a company's core functions. You need to create processes and procedures that facilitate streamlined operations. By standardizing your company's core functions, you'll begin to build a foundation for long-term success, rather than operating on reactive, short-term fixes.
Project Management
Excellent project management is an essential component of scalability. As your business grows, you'll have more and more work to manage. Each client will become a new project, and each project will likely have sub-projects. Create a roadmap of project management from the very beginning so your workflow won't be impeded by oncoming growth.
Each project should include:
Start and end dates

Defined milestones (check points to check to progress of the project)

Critical path tasks (tasks that must be done on time for the goal to be met)


Dedicated resources allocated to specific tasks

A system to facilitate open communication throughout the process
At GrowthForce, we've developed a web-bsed project management system called "GrowthForce Connect™". This web-based platform connects our team, our clients' staff, and the CPAs and CFOs who advise them, allowing us all to work as a single team on each project with seamless connectivity.
Standardized Processes
Standardization optimizes consistency while minimizing shortfalls in quality. The more standardized your process are with regards to projects, roles, and tasks, the more scalable your business.
At GrowthForce, every single balance sheet account gets reconciled each month, because that's the only way you can be sure the Income Statement is right. We may not necessarily be the people doing the reconciliation – the clients' CPA or clients' staff might perform some of the reconciliation – it is our responsibility to ensure that every account is reconciled.
Because we have standard processes in place, we'll be able to catch any account that wasn't reconciled outside of GrowthForce so we can complete the process on behalf of our clients.
Checklists
Checklists will help ensure defined company standards are applied to each interaction your team has with clients. There should be a customized checklist for each client, which is built using your company's standard best practices.
In our company, we're able to scale our accounting services because we've created checklists for each and every one of our clients customized, based on the services we provide them. We've created checks and balances to ensure we have separation of duties and nothing falls through the cracks.
For example, a month-end checklist has multiple columns because each client's account has several sets of eyes on the numbers. The process looks something like this:
The bookkeeper enters the data

The accountants reconcile the data entered by the bookkeepers and prepare the schedules and financial statements

The accounting manager reviews the schedules and financial statements prepared by the accountants
3. Overall Service Management
No matter what industry you're in, if you're a service business, service is what you're selling. That means you need to put measures in place to manage it. When it comes to service management, you have to have a team approach to solving clients' problems.
Getting buy-in from other team members, or from other teams, can enhance clients' experiences and reinforce consistency across an organization.
Here's a look at a few service fundamentals that are characteristic of successful service management:
Daily Standups

. Every team should start each day with quick open discussions. What's on the plan for today? Is anyone experiencing problems from yesterday? Could someone use another person's insight? Maybe another team member just resolved a similar situation. Daily standups create cohesion and reinforce the service culture. Daily standups help team members overcome roadblocks, resolve issues, and get help when it's needed. These forums often result in invaluable peer-to-peer training opportunities.
Manager Meetings.

Weekly meetings should be held with all the managers and COO in one place. This is where leaders talk about all issues occurring within the company, including staffing issues, problems with clients, or other situations.
One-on-Ones.

Regularly-scheduled one-on-ones help ensure no unresolved issues slip through the cracks. Each staff member should be meeting with her manager weekly. Each manager should be meeting with her director or C-Level supervisor regularly.
This takes time, and businesses that focus on billing by the hour, instead of a fixed fee, tend to put performance metrics that encourage people to skip these steps. However, if you spend 15-20% of your time planning for the other 80-85% of your week, you'll build a high performing team and a more profitable business.
4. Defining Service Standards
As a service-oriented business, you need to have service standards that are set in stone. These standards should be ingrained in your company culture, setting clear expectations for both your staff and your customers.
Response Time.

Every client should expect a response to an inquiry within a specific window of time.

Email Groups. Email groups often help facilitate an efficient flow of communication. If several team members receive an email marked urgent, for example, the person who's on the other end needing help will get assistance more quickly than if they're waiting for a response from a single individual. This also means you won't feel it when your primary contact is on PTO or out sick. They have a team backing them up.

Service Rules.

How does someone know a matter is urgent? Who's responsible for escalating urgent matters to the appropriate persons? Define your organization's service rules so everyone is on the same page when urgent situations arise, ensuring there are procedures and policies that everyone must follow. Most service businesses do a good job developing best practices for the standard services. Unfortunately, exceptions will occur, and an ill-prepared team without procedures in place for those exceptions may perform poorly in the face of unexpected surprises.

Train the Client Liaisons. As a service provider, you're an extension of your clients' teams. You want to be on the same page with your liaisons, so take advantage of every training opportunity presented to you to help your client partner get acquainted with your processes. By helping liaisons understand their roles, and giving them the support they need to be successful as a liaision, you're helping to set your own company – as well as your clients' organizations – up for fruitful futures. Again, this takes time. But training staff gets you a 10X return.

Defining Expectations for Clients Who Outsource Using Your Services
The biggest mistake people make when they hire an outsourcing firm is not changing the job descriptions of their internal staff, which means they're not properly managing expectations. It's important to understand how outsourcing can be perceived by the people who were already doing the job in-house.
You must explain to employees the WIIFM, why outsourcing is a good thing for them. They're not being replaced; now they simply have a resource that can help with certain tasks so they can be freed up to help with proposals or and attend local Chamber events.
With GrowthForce as an example, rather than being directly responsible for data entry or reconciliation, your employees now can become responsible for other revenue generating activities. Or your overworked bookkeeper will now have someone to help with data entry. Your office manager will now be freed up to attend industry events.
People's roles will be redefined, and job descriptions need to be updated. In the end, your employees should feel like valuable contributors to your organization; how you choose to address outsourcing from the beginning will pave the path for acceptance by your team.
As you form a game plan to manage expectations internally, consider the following:
Use KPI Scorecards. Your executive management still needs to have their fingers on the pulse of scorecards that show goings-on of the business. Regularly scheduled calls and KPI Charts and management reports will help the C-suite understand trends, ask questions, and become familiar with changes happening in the business.
Set Goals.

Do you want to streamline your internal processes? Are you trying to lower costs so you can reduce the fees you charge to clients by enhancing your internal workflow? What metrics will you use to define your baseline and track changes going forward? Goals will help you stay focused as a team, and changes to various processes and technologies can help you achieve these goals. Scalability is possible if you're willing to be flexible and change as your business's needs evolve.
Scalability means having a separation of duties and processes in place. It means not having a single point of failure. As a service business, you must designate the right people with the right skill sets to perform onboarding, core functions, and service management in order to sustain your growing company.
When you build a foundation for growth including standardized processes from the beginning, your business will have the ability to gain traction as your revenue streams increase.