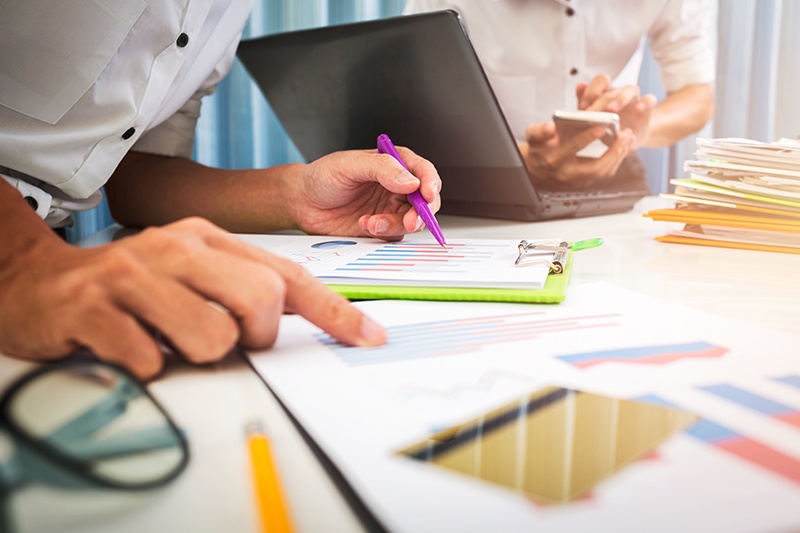 At first glance, managing Accounts Receivable (AR) appears simple...
Make new customers aware of payment terms and obligations

Invoice clients promptly

Take action when accounts are past due
Accounts receivable management requires just three easy steps, right? Not quite.
With a handful of clients who always pay on time and as promised, sure, AR management can be a breeze. When dealing with several customers, however, who pay using different methods, on different days, sometimes early, sometimes late, sometimes right on the nose, keeping track of your invoices and receivables can quickly snowball into a major bookkeeping headache, during which your company might not get paid on time, or at all.
Accounts Receivable Management Can Make or Break Your Business
When customers pay you late or maybe not at all, you might find yourself just pennies away from a cash flow shortage – a time when you have more money flowing out of your business than you have flowing into your business and you find yourself unable to pay the bills.
Most experts agree that about 90% of closed businesses fail due to cash flow problems, and overly lax or mismanaged accounts receivable are often responsible for these devastating cash flow shortages.
Implementing a sound system for managing your company's accounts receivable is one major way you can improve your business's working capital and avoid disastrous cash flow shortages.
10 Best Practices for Managing Accounts Receivable
Some of these may seem like common best practices for managing accounts receivable, but we're often surprised at how many businesses do not follow these important guidelines.
1. Don't Extend Credit to Just Anyone
Before you agree to do business with a customer on credit or good faith, run a credit check and ask for (and verify) references. Most corporate clients will have other credit accounts and will be happy to share these businesses as references.
It's okay to deny credit or to ask for payment up front.
2. Get a Personal Guarantee
When you do business with a corporate client, ask for a personal guarantee on your credit agreement or ask for a specific person to be responsible for handling payment. This will make the business owner (or whomever signs the guarantee) personally responsible for payment of the debt, if the invoice fails to get paid on time.
3. First Order of Business? Written Payment Terms
Before you start a working relationship with a new customer, explain and put all of your payment terms in writing.
Let the client know when you will invoice them, how much time they will have to pay before they are considered past due and disclose any late fees and interest terms.
4. Send Invoices Promptly
Oddly, this key to positive cash flow is often back-burnered. If you haven't invoiced your customers on time, then you can't expect payments on time.
Have a process to Invoice on time – send the documents promptly or use software to streamline the process.
5. Offer Easy Payment Options
Customers typically pay twice as fast when they are offered convenient payment options.
Providing mobile payment choices and accepting payment through methods such as PayPal, electronic deposit, debit card and credit card means you will not have to wait for your customer to write a check or for the post office to deliver it.
6. Closely Monitor Payments as Received
Check your receivable accounts daily to keep track of the invoices for which payment has been received.
As soon as a customer becomes past due, take action according to your plan.
7. Plan for Past Dues
Develop a plan or strategy that outlines how your business will handle past due customers. Consider these questions - After how many days past due will you:
charge a late fee or interest?

email a payment reminder?

contact the customer by phone?

mail a past due statement of account or invoice?

involve a debt collector?
8. Be Consistent with Rules
Stick with your plan for managing accounts receivable and past dues and be consistent with your rules. Do not manage past due accounts on a case by case basis.
Take the same steps on the same days (sending past due notices, charging fees or making phone calls) with all customers who owe you money. This will not only simplify the management of accounts receivable, but will also improve customer adherence to payment terms.
9. Pick Up the Phone
When a customer is late on their payment, an email or letter often will not be enough to compel them to pay. You might find calling a customer is more effective. Take the time and the make the effort to call your overdue customers to remind them that their payment is due and to ask if they are satisfied with the service or product they received.
Find out whether a different method of payment would be simpler and ask when you can expect to receive payment. Keep a record of the conversation, and if you do not receive payment as promised, call again.
10. Know When to Quit a Customer
If you have a customer who is habitually late on payments, they might be costing you more than they are worth. Consider the risk that they might neglect paying you in the future and what the delayed payment is costing you.
Weigh the cash flow risks and costs against potential benefits of the relationship with the customer.
If you do not want to simply end the customer relationship, consider reducing their credit limit or requiring full payment up front.
Is there an Accounts Receivable Management tool for that?

You can revolutionize the way you manage your company's AR management with a tool called Funding Gates™.
We love to recommend Funding Gates (and our clients do too!) because we know first-hand how useful it is.
When it comes to managing your business's accounts receivable, Funding Gates does everything to help you follow through with receivables and improve your working capital. From establishing accounts receivable protocols and invoicing customers to sending out past due notices and following up with past due clients, this savvy and scalable AR management tool can handle it all.
Some of our favorite features of Funding Gates:
QuickBooks Integration

Optimized Electronic Receivables

Ability to assign accounts to different roles

Streamlined follow-up campaigns

Bank level security

Simplified Collections
Take Your Business to the Next Level!
By partnering with GrowthForce, you can build your business a smarter back office by using groundbreaking technology and leveraging ongoing support from expert outsourced bookkeepers, accountants and controllers.
By streamlining your bookkeeping, accounting and management of accounts receivable, you can improve your company's cash flow, reduce days sales outstanding and boost your bottom line.
To learn more about partnering with GrowthForce and the state of the art business technology tools we help your business access, schedule a DEMO today.