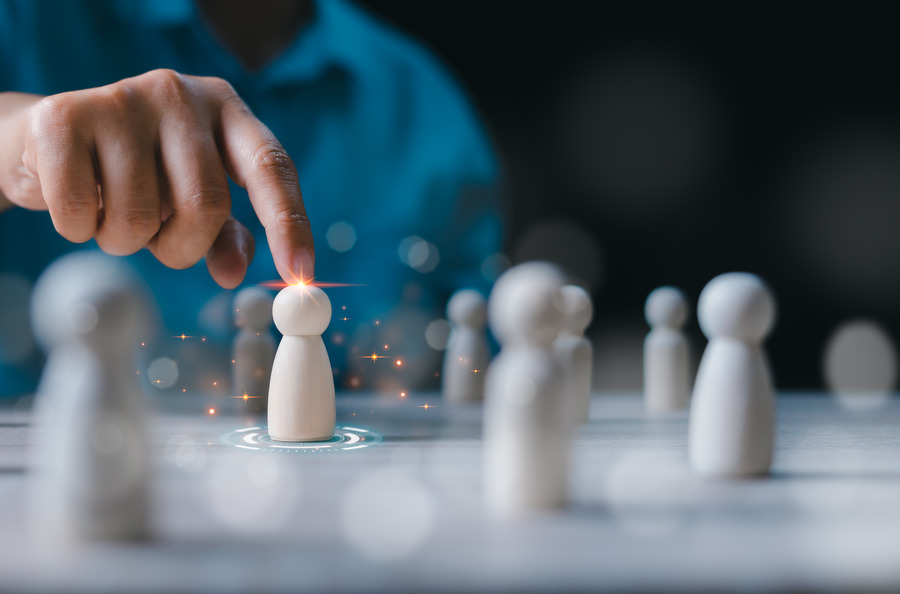 To build an effective talent management strategy, reassess the way you view your people.
View Your People as Assets
In businesses that make money on their people, payroll is the biggest expense— especially when it includes healthcare and other benefits. CEOs who view their employees as expenses instead of assets will try to increase profits by reducing those costs.
They'll hire fewer employees and spend less on their workforce overall. However, while this might bring costs down, it also reduces the ROI you'll get on your human capital.
What's Your People Strategy?
If you provide services and make money on peoples' time, the value of your business is built on your employees—the people who understand and share your strategic vision, have in-depth knowledge of your IP and processes, and possess the ability to help drive your company forward.
They've developed relationships with your customers, subcontractors and suppliers. And if your company runs on tribal knowledge, when a member of the tribe leaves, so does the knowledge.
It's important to realize that the most important sale you'll ever make isn't to any customer. Instead, it's to an A-player employee who'll join your company, help you build a high-performing team, and add to your momentum. And that's why you can't hire just anyone to work for you.
What Kind of Company Do You Want?
Company culture encompasses the shared values, beliefs, and behaviors in an organization. The culture plays a crucial role in how the organization functions because it determines the overall attitudes towards things like professional development, collaboration, fun team building activities, and many other aspects of the workplace.
How to Increase Profits with a Solid Business Strategy
For example, an investment firm might have a conservative culture with a linear hierarchy, a formal dress code, reserved executive parking spots and a strict onsite policy, while also encouraging professional development and offering regular company retreats.
In contrast, a boutique design agency might have an informal culture with a relaxed dress code, a matrixed structure, and flexible work arrangements while prioritizing things like paid time off (PTO) for volunteering over team building workshops.
The CGMA reports that 68 percent of a company's value stems directly from the people in the organization. When you view employees as expenses, all you see is the numbers on the payroll.
But when you view them as assets and hire people who share your core values, you understand how much value each person currently brings to your company in the form of knowledge, skills, experience, behaviors, relationships, networks, and more.
You also understand that investing in your people can yield a significant ROI because the better their abilities, the more they can put them to use to meet your goals.
The Motivational and Financial Cost of Not Having Engaged Employees
While hiring people whose vision and values align with yours is an important first step, first you need to create a work environment that motivates employees.
Research shows that on average, U.S. employees in small businesses waste more than 2 hours a day at work[1]. That amounts to almost $700 billion per year in lost productivity!
During those 2 hours, they're taking long breaks and thinking about focusing on things they are passionate about.
Why are they doing this instead of working? Because they've learned how to complete all their responsibilities in 6 hours—and they're not being challenged to work in a manner that clearly shows them how their contributions make a difference.
They need opportunities to develop their careers and to be recognized for their contributions.
How Cash Flow Problems Force Business Owners to Make Bad Decisions
Maslow's Hierarchy of Needs
Once a business has the right people and talent management system in place, how does a business owner/CEO motivate employees to contribute "discretionary effort?"
As shown in the famous Maslow's Hierarchy of Needs pyramid, it is companies and management teams that provide self-esteem (recognition) and self-actualization (challenge) opportunities.
Remember that most employees say they leave because they don't feel they are being recognized or challenged at work.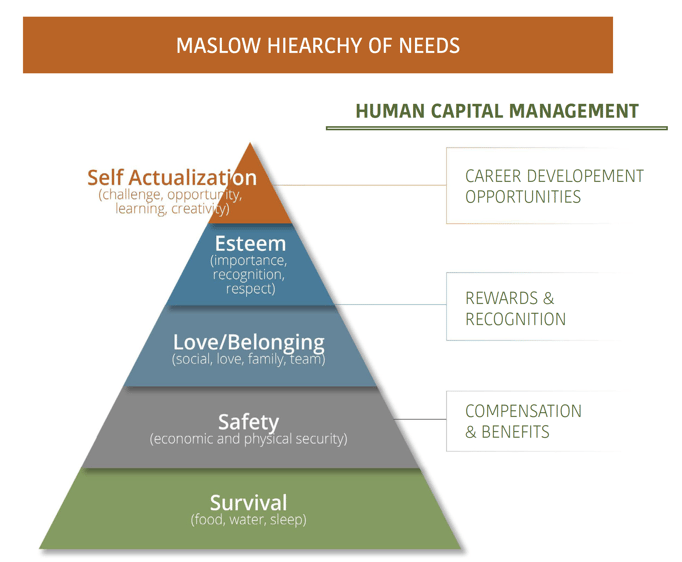 Recognition among peers and co-workers can have a long-term impact on employee work engagement and job satisfaction. Effective self-actualization tactics include all-important training and career development initiatives such as classes and seminars paid for by the company.
By tying together talent management and human capital strategies, a business can reduce turnover and the associated overhead costs.
Human Capital Strategy ROI
2 hours a day is 25 percent of a workday—so that means we have an average of 25 percent more potential in our companies than we're currently getting.
If you can just increase productivity by as little as 15 minutes per employee per day, then you'll gain 1.25 hours per week or a 3.1 percent in productivity. For a $3 million revenue business, that's a potential impact of over $90K per year for every 15 minutes of additional productivity you get from your team!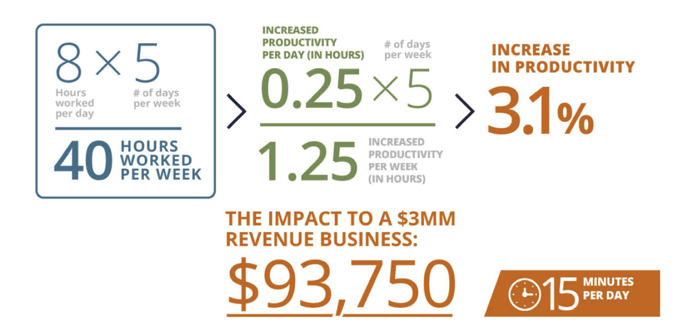 So how can you do this? Treat people as assets by implementing a human capital strategy that attracts people who are passionate about your USP, and once hired, empowers and motivates them by keeping them challenged and working towards clearly defined personal and company-wide goals.
The Costs of Turnover
While low productivity can be a concern, the biggest problem facing many small to mid-sized companies is turnover.
The financial impact of turnover is high. According to some studies, it costs an average of 90 to 200 percent of an employee's base salary to re place him or her. And for at least 1 in 4 companies, the costs exceed $50,000.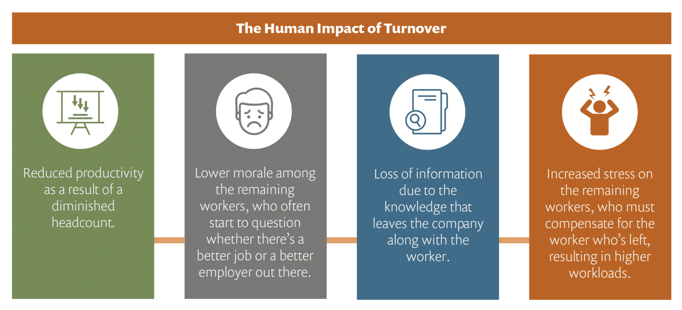 The costs of turnover can involve the following seven factors:
A paid time off (PTO) balance that must be paid out at the end of an employee's engagement
The out of pocket recruitment costs associated with updating job descriptions, job ads, sourcing, interviewing, screening, and hiring, new Candidates
The time and productivity losses for managers and other personnel involved in the recruitment process
Higher salaries for external hires, which are on average between 18 and 20 percent higher than internal hires, according to a study by the University of Pennsylvania
The costs of onboarding and training new hires, such as travel costs and loss of productivity from your best performers or senior managers who are charged with training
The administrative costs associated with processing applications, conducting background and reference checks, and scheduling drug tests
Client losses due to the loss of an employee
The Human Impact of Turnover
There's also a significant human impact of turnover:
Reduced productivity as a result of a diminished headcount

Lower morale among the remaining workers, who often start to question whether there's a better job or a better employer out there

Loss of information due to the knowledge that leaves the company along with the worker

Increased stress on the remaining workers, who must compensate for the worker who's left, resulting in higher workloads
Attracting and Retaining the Right Talent With Effective Hiring Techniques
80% of all turnover is due to bad hires. Many people share the belief that attracting the right talent is all about offering them more money than the competition. You need to be competitive as candidates certainly consider salary, benefits, and perks while deciding to accept an offer of employment, but those aren't the only factors they consider.
The best candidates also want to work in a positive, supportive environment that aligns with their core values and provides them with interesting work. When you communicate your core values and company culture to candidates up front, you increase the odds of attracting candidates who are passionate about your business—and who are more likely to be high performers who stay with you for the long haul because they believe in what they're doing.
Dynamic Recruitment
The biggest mistake small businesses make is recruiting for the skills to pay the bills instead of recruiting for the behaviors that will allow an employee to succeed. Basically, if you want a successful hire, you should not just determine WHAT you need, but WHO you need. It's not all about skills and abilities or knowledge and experience in a specific field. You also need someone who:
fits into your company culture

shares your core values

demonstrates the behaviors associated with your core values
You can train people in skills—but you can't teach them intrinsic behaviors.
The dynamic recruitment process begins with defining successful behaviors. Ask yourself the following questions:

Who are your best performers?

What are the behaviors that make them successful?
Recruitment Is a Marketing Function
If you think recruiting is about posting a job ad that's a summary of the job description and lists the skills you're looking for, then you're missing an important point.
Recruitment is about marketing your company and creating an enticing offer to the candidates you want. Today, candidates can find out everything about your company by doing a quick Google search and reading Glassdoor.com reviews. You need to be honest about what you're offering while simultaneously making it interesting.
Just like you tailor your marketing strategy to your ideal customer, you need to tailor your recruitment strategy to your ideal candidates. You need to know what your target candidates care about. That's where knowledge of current workforce demographics is important.
A good recruitment strategy is all about marketing your company to your ideal candidates! Treat prospective employees like you would your most valuable client, and find out what's important to them.
There are as many as 5 different generations in the workforce, all with different wants and needs. Baby Boomers and Millennials are currently the 2 largest groups in the workforce—and they each want different things from work. Of course, everyone is different, but some broad strokes apply: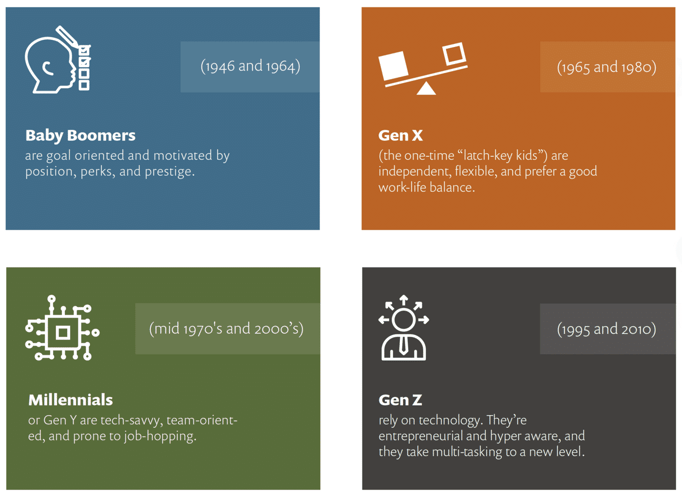 Baby Boomers (born approximately between the years 1946 and 1964) are goal oriented and motivated by position, perks, and prestige.

Gen X (the one-time "latch-key kids" born approximately between the years 1965 and 1980) are independent, flexible, and prefer a good work-life balance.

Millennials or Gen Y (born anywhere between the mid 1970's and 2000s) are tech-savvy, team-oriented, and prone to job-hopping.

Gen Z (born approximately between the years 1995 and 2010) rely on technology. They're entrepreneurial and hyper aware, and they take multi-tasking to a new level.
Behavior-Based Performance Management
Once you've recruited candidates who share your core values, you need to keep them engaged so they'll perform well and stay with you. According to PriceWaterhouseCoopers, you can achieve an ROI of 700 percent by implementing HR best practices. This is where a strong performance management program can make all the difference.
Behavior-based performance management is not a trip to the principal's office.
In addition to reviewing an employee's performance against written goals, it's a formal meeting designed to help the supervisor understand the individual employee's motivation and career goals. It should be clear that not all employees share the same motivations and objectives.
For example, an entry-level employee who's a working mother might want the flexibility to respond to her children's needs, while another may want a fast track to a senior position so she can start saving for her child's education. Or a mid career manager might want to spearhead a new division because she has a passion for innovation and wants the company to benefit from it.
Whatever it is, you need to know your employees' motivations so you can offer them the career guidance and opportunities they need to stay motivated and productive. You need to regularly take stock of their development to figure out if they're on the right track and if anything needs adjusting.
Consider the following training opportunities:
Soft skills training (goal setting, time management, priority setting)

Technical skills training

Management training for first-time managers (interview skills, performance management skills)

Leadership development and formal coaching for mid-level managers
When you correctly and consistently implement behavior-based performance management, it will yield the greatest ROI possible from any human capital investment.
Key Takeaways – Talent Management
View your people as assets, not expenses.

68 percent of a company's value stems from non-financial components, i.e. its people.

Employees who aren't motivated can lose as much as 2 hours of productivity per day. Keeping them motivated and adding even as little as 15 minutes of productivity per day can add thousands of dollars to your profits.

Turnover is costly in terms of both finances and human impact. The costs associated with replacing an employee are between 90 and 200 percent of that person's base salary, plus, there's the potential for losing clients. In terms of human impact, coworkers can become unmotivated and stressed, while you can also lose knowledge along with the worker who's leaving.

When recruiting employees, you need to keep several things in mind: Approach recruitment as if you were ''marketing" your product to your most important customers; hire for behaviors, not skills; and tailor your recruitment efforts to the specific individual.
Use behavior-based performance management to provide your employees with additional training and development. This will help you retain top talent.