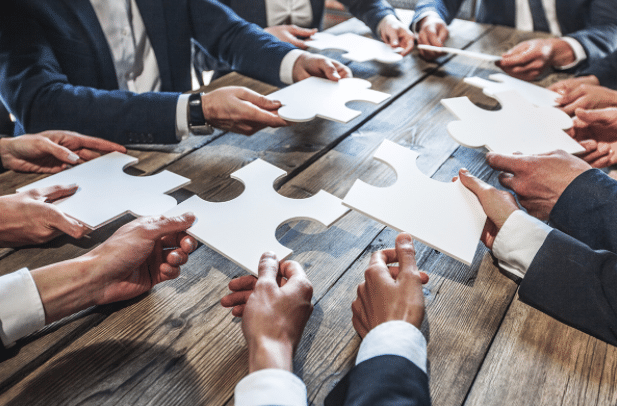 Making the decision to outsource your business's accounting is pivotal – you want confidence that an outsourced team will not only be reliable, but also efficient and thorough. You also want the assurance that you will have a seamless transition during the onboarding process.
The onboarding process for outsourced accounting should be a centralized and disciplined approach to ensure the utmost efficiency in preparing your organization for recurring services.
Having a successful onboarding process is about knowing what you need besides your checklist of materials. You also need the right mindset and flexibility to work through the process - with good communication from both you and your outsourced team, the process will go smoothly. Your dedicated and experienced outsourced team, will help you every step of the way.
In this article, we're going to walk you through what you need to get onboarded and why here at GrowthForce, we start with the end in mind – and what that means for you as a client.
We also discuss how your accounting team will optimize your accounting system and unleash the power of Quickbooks to automate processes for efficiency and peace of mind.
The Onboarding Process
While we can't speak for every company, at GrowthForce, our goal is to have you up and running as soon as possible. Our onboarding process typically takes 60 - 90 days, which allows us to incorporate an entire quarter's data so you can review weekly, monthly, and quarterly reports, inclusive of payroll, sales, and estimated income taxes.
(Don't worry, we can start handling your bookkeeping and accounting right away - but it takes up to 90 days to optimize your systems, processes and reporting packages to provide the complete GrowthForce financial management experience.)
We anticipate 30 days for each stage of the process, which looks like this:
Design

First round of accounting

Refinement
Once you hit the 90th day, you should be getting into autopilot mode. That's not to say you won't want to make changes as part of the ongoing process; in fact, a good accounting system is always being tweaked because your business is always changing.
You can always update a report or add a user, but the fundamental package should be ready by your third month.
If your bookkeeper left the company, we can help with that, too. We'll pick up on day one, completing billing, collections, payments, and payroll with your existing system until you're properly transitioned to GrowthForce.
Of course, if you're not engaged, and you don't provide feedback, the process could take longer.
Our

5 step process for onboarding

:
Kick Off Call:

During this initial step your onboarding team will present a detailed workflow and layout a timeline for the onboarding through recurring services phases. It's here that we'll provide a checklist for materials needed from you – like

bank and loan statements, sales and payroll tax returns, income tax returns, equity schedules, etc.
Implementation Preparation:

While that information is being compiled, the onboarding team gets right to work on organizing your software and integrating the necessary third party applications for a punctual start date on your system.



System Design:

During this step, your system is being built, and reporting is being designed by analyzing the current state and defining processes and roles (this helps us streamline out inefficiencies). From there, we create a flow chart for your processes and procedures and weekly and monthly reporting to ensure a stringent ongoing month-end close. We ensure that your system is robust and scalable for the present and future needs of your organization.



Liaison Training:

Once your system is implemented, liaison training can begin to detail your Smart Back Office's features and functions, such as running automated reports. This is the time we answer questions about officially getting started, as well as any preferences for communication.



Recurring Services:

After system design, implementation and training is complete, that's when actual processing of your accounting begins. The initial financials will be run, and re-run if necessary to ensure smooth sailing in your system.
Transitioning From Onboarding to Accounting Services Teams
As you can see, the process from onboarding to recurring services is extremely thorough for your Smart Back Office. Your onboarding team processes accounting for the first month, and it's when the system is tested to run smoothly that the handoff to your services team occurs. The recurring services team is then briefed in an internal meeting on everything about your Smart Back Office, so the necessary reporting and functionality maintains the same level of quality moving forward.
Your recurring services team is comprised of 3 members, which are:
An Accounting Manager,

for monthly review of financial statements, internal controls and customer service and satisfaction
A Staff Accountant,

who's your main point of contact, and reconciles the balance sheet account and month end preparation
A Bookkeeper,

tasked with data entry, processing Accounts Payable and preparing bank reconciliations
Even though your outsourced accounting team is remote you'll have access to your entire team's dedicated email and phone numbers, as well as video chat functionality for ongoing communication.
Starting With the End in Mind
At GrowthForce, we start with the end in mind, which means we learn what reports you want right in the beginning, on a weekly or monthly basis. From there, we work to create a robust, scalable and flexible Smart Back Office that unleashes the power of QuickBooks to provide actionable financial intelligence for your business.
This is especially important because after onboarding, our accounting processes will help you gain visibility into the leading indicators of your business so you can make better, more strategic business decisions for maximum profitability.
By transitioning to the right dedicated outsourced accounting team, you can gain efficiency, peace of mind, and financial intelligence to grow your business. In addition, investing the time to establish your Smart Back Office, will eliminate time wasted on data entry and repetitive tasks forever. You didn't go into business to be a QuickBooks expert; let us handle the accounting, so you can focus on revenue-generating activities and growing your business.