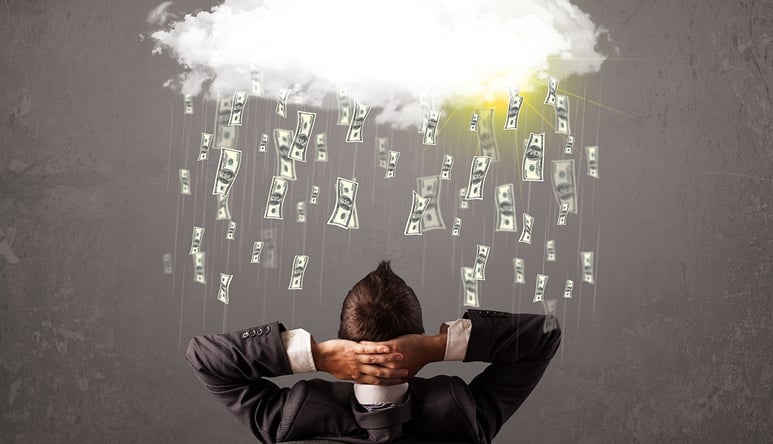 Keeping your business on track and setting it up for growth requires establishing processes that work to improve your cash flow. Tracking and monitoring your cash flow gives you insight on how well your business is doing and what areas need your attention. However, how do you look beyond your current cash flow to plan ahead by months or even years?
With a cash flow forecast - you will improve cash flow management - helping you to anticipate cash inflow and outflow and the amount of cash on hand in your company at any time in the future based on anticipated income, accounts receivable, accounts payable, current cash in the bank and anticipated expenses.
So where do you start and how can you create a report to show you the future?
See the Future! Cash Flow Forecasting Drives Business Success
A cash flow forecast, sometimes referred to as a cash flow projection is usually a simple spreadsheet. But it's not an ordinary spreadsheet: a cash flow forecast spreadsheet helps you predict your company's future cash flow position.
Intuit QuickBooks® has cash flow forecasting features. "Pulse is a cash flow forecasting application that allows integration with QuickBooks. PlanGuru is another software option that lets you report in Excel, QuickBooks, or other file formats. Any of these options let you see how your cash balance is doing. By having this information, you can make smarter decisions, spend your time more wisely, and have your company perform better."
Create Your Cash Flow Forecast Report
There are two easy steps to creating the Cash Flow Forecast Report once you launch QuickBooks.
Choose the "Reports" tab and scroll down to select the "Company & Financial" option.

Select the option "Cash Flow Forecast"

Inuit QuickBooks® also recently created an app called Cash Flow Frog - Simple cash flow forecasting for your business within seconds
How it works with QuickBooks
Cash Flow Frog integrates seamlessly with your QuickBooks account. It automatically analyzes your data and generates a cash flow forecast. The data is updated on a daily basis so it is always up-to-date.
Analyze and Understand your Report
What does the cash flow forecasting report tell you? What do you need to understand in order to accurately forecast your cash flow?
The report takes a look at your cash inflows (accounts receivables), your cash outflows (accounts payables), and your bank account balances week by week. The report is divided into four columns. By clicking on each column, you can see what transactions were calculated to make up the amount. This report can help you see the relationship between cash flow and profits.
Balance Amounts Columns
Accounts Receivable:

this column reflects the customer payments you are expected to receive. This amount is calculated based on the payment terms you recorded in QuickBooks per customer.

This amount will help you project how much money is coming into the business (cash inflows)

.
Accounts Payable:

this column shows the bills you are expected to pay, and is calculated based on the payment terms you set for each vendor in QuickBooks. This amount allows you to estimate how much cash will be used for

accounts payables

(cash outflows).

Bank Accounts:

QuickBooks is a powerful platform in that it just does not look at the flow of cash in and out of the company. It also calculates the expected changes to the company's bank account balances. This number is factored based on payments and deposits that were post dated after the report start date.

Net Inflows:

this column is a projection of net cash inflow for each week. The net inflow is calculated based on the amounts in the Accounts Receivable, Accounts Payable, and the Bank Accounts columns.
Changing the Defaults
The cash flow forecast is based and calculated on the assumption that all customers will pay their invoices on time.
To ensure that you are prepared for the inevitable fact that that some customers won't pay on time, adjust this forecast to see how it would be affected by late payments. This is valuable information since it will help you with your budget planning and strategy for the year ahead.
To make this change, enter the number of days of delayed payment in the field labeled "Delay Receipts."
QuickBooks automatically sets the cash flow forecast report on a week to week basis by default. This can be changed to other desired intervals such as days or months. This helps with forecasting cash flow on a monthly basis and is great to set up an annual budget as well. To change the default periods, click on the "Periods" drop-down list and select the interval of your choice.
There is a lot to understand when it comes to managing your cash flow and analyzing your projections. You also have to keep in mind that QuickBooks can only use information that you have provided and entered. It is no doubt a powerful tool so you can see what the future holds for your business and what decisions you can make based on it. However, you have ensure that you are keeping a close watch on the cash moving in and out of your business as this can severely impact the outcome.
Most CEOs and small business owners understand the value of creating budgets, however, it can be painful if you don't have the resources in place to work through the process.
At GrowthForce, we can help manage your processes by providing expert bookkeeping, accounting and controller services so you can focus on what matters the most to you - growing your business.
Cash Flow Forecasting: Keep your finger on the financial pulse of your business with our cash flow tools & analysis.
We provide the budgeting services and cash flow tools and analysis you need to keep your finger on the financial pulse.