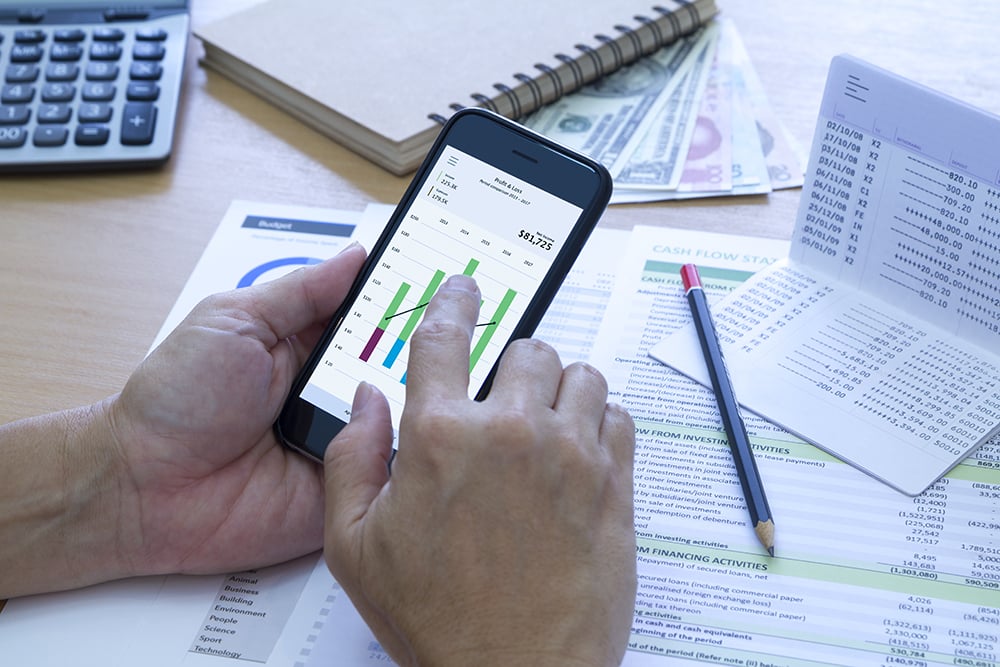 It's no surprise that after much research and analysis of accounting software, Business News Daily recommends Intuit's QuickBooks™ Online as the best accounting software for small businesses in 2019.
Offering more than just a streamlined bookkeeping and accounting system, QuickBooks can also be used as a tool to help inform a business's financial management strategy. In fact, CEO's and Owners of the best run businesses use QuickBooks to improve their company's cash flow. Here are four ways you can use QuickBooks to Improve cash flow in your business:

1. Use QuickBooks for Billing and Collections
In general, a good rule to follow that helps improve your cash flow is to make sure you are collecting your payments from clients and customers on time, and optimize your method for how you get paid.
Intuit Merchant Services allows QuickBooks users to accept credit cards for payments, including mobile payments so your service providers can get paid as soon as they deliver services. Intuit Merchant Services can email invoices to customers and automate the collection process. Once they open the email, they can click on a link, enter their credit card number, and pay the invoice right away.
When an invoice is paid, QuickBooks automatically posts the payment to the customer's account receivable, saving you time of having to input the data manually. Worried about your customers claiming they never received the email? The system will automatically notify you if the invoice email never gets opened so you can follow up with the customer.
The faster you get paid for the services you provide, the better your cash flow will be. Reducing your company's Days Sales Outstanding (DSO), the time between invoicing and receiving payment, will drastically improve cash flow. With more cash on hand, you avoid wasting valuable time on collections and you can focus that time and energy on generating more revenue for your business. The small percentage of the credit card fee is more than offset by the value of your time that is better spend on how to grow your business.
2. Use QuickBooks for Bill Payment
Just like many people have online bill pay from their bank for their personal expenses, QuickBooks allows users to select vendors they want to pay online. This eliminates the need to print a check, saving not only the time it takes to print and sign each check, but the cost of stamp, envelope and buying more paper checks as well.
With traditional check payments, you have to deduct the payment from the account when the check is sent off, but it could take a few days for the check to reach the vendor and then cash the check. Instead, with online bill payment, QuickBooks releases payment from the bank account when the check actually clears, which provides a more accurate snapshot of cash flow.
Another benefit of using QuickBooks is not only that it decreases the amount of time it takes for you to get paid, thus lowering your DSO, but also the amount of time it takes to pay your own invoices. This is referred to as Days Payable Outstanding (DPO), the average number of days it takes a company to pay its own invoices. Reducing your DPO helps you to better manage the flow of cash out of your business, so you can plan better budgets.
3. Use QuickBooks to Download Bank and Credit Card data
QuickBooks users should set up their system to download bank and credit card statements online. Once in the system, the balances can more easily be reconciled, providing businesses with a more realistic view of their current cash flow situation. You can quickly pull up these balances to gauge where your cash flow is in order to make more informed spending decisions right then and there. Plus, you are able to make a more accurate cash flow forecast when you have the most up-to-date accounts payable information available.
But the biggest benefit of automating bank and credit card downloads is the visibility you get into possible bank fraud. Corporate bank accounts only have 48 hours to contest or dispute a charge. It's a lot easier to catch potential fraud if you are automatically downloading your banking transactions every day.
4. Use QuickBooks to Forecast Cash Flow
You can use your QuickBooks data and our GrowthForce cash flow template, to create a 13-week cash flow forecast report. This will help you summarize the company's cash flow for the next 13 weeks so you can make better business decisions. QuickBooks users can download Accounts Receivable (AR) and Accounts Payable (AP) Aging Reports and easily import them into our Excel template. Then then can easily forecast when they expect to collect on each Receivable and pay each Payable over the next 13 weeks.
You can also add Uses of Cash that are not related to Accounts Payable and lay them next to Sources of Cash not included in AR to predict cash flow over the course of the next 13 weeks. This information alone can help businesses make better business decisions and even plan further ahead for the future.

If you don't forecast your company's cash flow, your company faces a very real risk of failing. Don't let your business become a statistic; do your homework. Take the necessary steps to establish a solid cash flow forecast. Download our Cash Flow Forecasting tool...