8 min read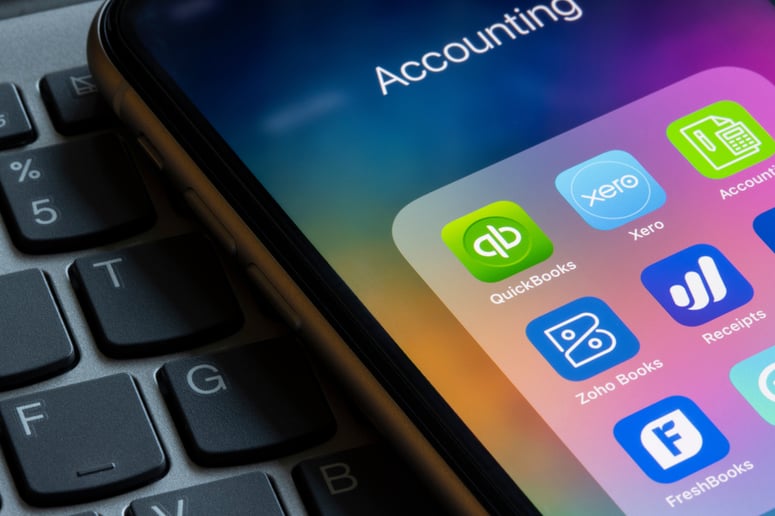 Automating processes in business is one of the simplest ways to save time, money, and other resources across departments. In your back office, there are countless software systems and advanced tools that you can implement to automate back-office processes such as data collection, data categorization, reporting, expense tracking, time tracking, and more.
With a seemingly infinite number of options in accounting software systems, it can be difficult to determine which is the best for your service business. We've compiled a list of some of the most popular accounting software tools in addition to some basic guidelines to help you select the best product to power your company's back office.
The Benefits of Adopting Digital Accounting Systems for the Back Office
Saves Time

- Automating manual processes whenever possible saves valuable time and resources within your business.

Improves Accuracy

- Automating bookkeeping and accounting processes with accounting software also increases the accuracy and reliability of your financial records.

Better Record Keeping and Organization

- Accounting software helps your business centralize its records and improve data organization.

Maintains Compliance

- Accounting software can help to maintain compliance and keep your business ready for financial reporting, taxes, and audits at all times.

Improves Financial Management With Management Accounting

- In addition to improving the external nature of your bookkeeping and accounting needs, accounting software can also improve the internal financial management of your business with management accounting and management reporting. Reliable, accurate, and timely management reporting provides business leaders with the information they need to make data-driven decisions to increase productivity, performance, and profits.

Cloud-Based Access

- Many accounting software systems are cloud-supported, meaning that data is stored securely on the cloud and accessible at any time from any place. So, you can keep an eye on your business – even when you're away from the office.

Powerful Integrations

- Accounting software systems – especially QuickBooks – provide opportunities to use powerful integrations with other software and applications. This means you can streamline your financial records with your time-tracking software, expense reimbursement, expense tracking, customer response management tools, employee management tools, and more.
Accounting Software Best Practices: How to Choose an Accounting System for Your Service Business
To select the accounting software that is right for your service business, you should include the consideration of a variety of factors within your best practices and vetting process.
Read More: Cost Analysis: Outsourcing vs. In-House Accounting for Your Business
The Type of Accounting Software
There are several different types of accounting software available such as:
Cloud-based

On-premises

Open source

Enterprise

Commercial

Small business

Industry-specific

Enterprise Resource Planning (ERP)
These types of accounting software systems differ in terms of their features, data storage location, purpose, intended user type, and more. You should research each of these software types to get a feel for their comparative capabilities, strengths, and weaknesses in addition to their potential use in your business.
Software Features and Your Company's Needs
Consider what you actually need your company's accounting software to do for you. What features are absolutely necessary? Which ones would be nice to have? Which ones would you not need to use currently? Which features might be nice to integrate as your business grows?
Some of the features provided by different types of accounting software include:
Bookkeeping (data collection and record-keeping)

Accounting (compliance, financial statements, and reporting)

Accounts receivable management (billing and invoicing)

Inventory management (inventory tracking, cost estimates, and purchase orders)

Payroll (time tracking, payroll taxes, and paycheck processing)

Project management (estimates and budgets, task assignments, and progress monitoring)

Reporting (financial reports, KPI measuring, performance evaluation, and custom report creation)

Customer relationship management (CRM) (customer contact database, customer interaction management, lead generation, and sales funnel management)
Most accounting software systems provide some combination of the above-listed features while also offering integrations with other applications to enhance the performance of your back office system.
Your Budget
Of course, cost should be a major factor in selecting a software system that performs for you. When assessing costs and comparing products, it's important to also consider the potential ROI of automating your back office with a robust accounting software system. By automating processes and strengthening your back office's capabilities, you stand to save time, money, and resources while also improving operations, productivity, and profits.
Instead of skimping on the cost of your software, your business might be overall better served by investing in a comprehensive product that will pay for itself in the end.
Your Accounting System Should Be A Platform For Growth.
Case Study: This CEO used financial reports to make critical decisions that helped his service business rapidly expand.

Read the full case study here

.
Support and Training Availability
Accounting software can be complex. It can be difficult to implement, and you will likely have lots of questions at the beginning of its use and continue to have more questions as your business grows and you need to scale capabilities. What kind of customer support does your preferred software provide its customers?
Additionally, does the software company provide ongoing training opportunities? As you hire new employees, you will need to ensure they are up-to-date and well-versed in your accounting software. Choosing a company that provides user training will save you time, money, and onboarding stress.
Security Features
Accounting software relies on recording, storing, and using sensitive data (your business's and your clients'). Before selecting a software system, be sure to properly vet the company's cybersecurity capabilities. How do they protect their clients' personal information? What kinds of security features do they offer?
Customization
How flexible is the software system you're considering? Can it be customized to meet your needs? Can it generate customized reports or only standard financial reports?
Data Entry
How thoroughly can you automate data collection and entry with the accounting software you're considering? Some software systems require manual data entry, and this can be time-consuming and also increase the opportunities for errors.
Read More: The Best QuickBooks® Consultants For Your Business
Common Challenges With Accounting Software
Before selecting and purchasing a new software system for your business, you should have a strategy in place to address the following common challenges presented by small business accounting software:
Price

- As stated above, cost is a key factor, and the price of your preferred software should be carefully considered and worked into your budget before any purchasing decisions are made.

Implementation

- How will you roll over your current systems to maintain continuity while transitioning to a new accounting software system? This invariably means also transitioning to new accounting processes and procedures.

Integration

- Will the software you have selected integrate seamlessly with the technology you currently use? For example, can it integrate with your time-tracking applications, CRM system, and/or e-commerce platform?

Scalability

- The software you're considering might be perfect for your business as it is now, but what about in the future? Will the software be able to grow with your business? Does it offer scaleable features and customizations?
5 of the Best Software Systems for Your Accounting Needs
1. Intuit QuickBooks ®
Intuit QuickBooks is the most popular accounting software available for businesses of all sizes. We recommend this as the #1 accounting software for service businesses. They offer a wide variety of products and software suites that include desktop-based and cloud-based systems with a variety of scalable and customizable features. QuickBooks makes it easy for outsourced accounting partners to pull management reporting. Additionally, QuickBooks offers powerful integrations with a variety of other business management tools including CRM, project management, and employee management systems.
2. Xero
Xero offers a powerful suite of advanced features tailored to meet the needs of small and growing businesses. The software is advertised as providing simple, yet powerful, online accounting solutions.
3. FreshBooks
The primary selling point of FreshBooks is its ease of use. The cloud-based accounting software offers a user-friendly interface, powerful integrations with more than 100 applications, and customer-centric tools in addition to an award-winning customer service team.
4. Patriot
Patriot is a popular choice for business leaders who are looking to get great value for the money they spend on an accounting software system – without sacrificing performance. The software provides comprehensive features at an affordable price and allows users to try out the system for free before committing to any purchases.
5. Zoho Books
Zoho is a large company that provides a variety of business management tools such as project management, sales, and CRM systems. If you already use these, then their accounting software provides a quick and simple addition that is easily integrated with their robust suite of business management tools.
Team Up With an Outsourced Accounting Service Provider to Make the Most of Your Accounting Software
Fortifying your back office with a powerful accounting software system is a big first step in automating your processes and leveraging the power of your back office to manage and grow your business.
Powerful software, however, can only go so far on its own. It's also necessary for human users to understand all of the software's capabilities, know how to implement them in their businesses, and understand how to use financial insights to make sound leadership decisions. In other words, in order for your accounting software to be successful in your company, you need to pair it with a knowledgeable and experienced team.
Hiring an in-house team of brilliant bookkeeping and accounting minds, however, can be a costly endeavor that small and medium-sized businesses can't always afford. With outsourced accounting service providers, however, even SMBs can combine the power of the accounting software system with the vast expertise of an experienced financial team to make the most of their back offices.