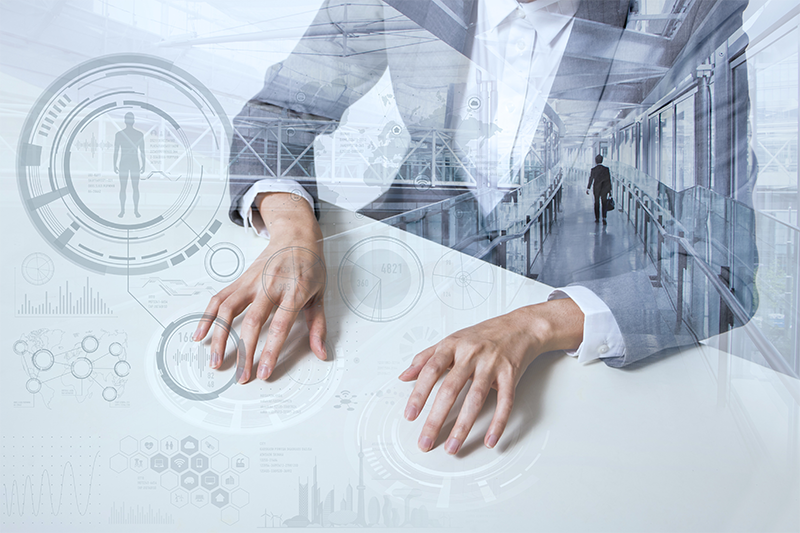 Tracking sales metrics and trends, is like keeping tabs on your business's vital signs.
Why You Need to Pay Close Attention to Sales
The sales funnel, and subsequent revenue, of a distracted CEO is liable to flat-line. Ignoring your sales funnel is a sure-fire way to make your bottom line suffer.
Small business CEOs should never take their eyes off the quantity and quality of leads. Those significant leads that are generated by marketing efforts or proposals presented, and closed by sales reps, require close monitoring.
With a neglected sales funnel, you'll have generated less money to fund your payroll, administrative and overhead expenses — the costs that keep the company productive.
How to Track Sales and Forecast Trends
To help you keep tabs on some of your business's most important vital signs, you could use a dashboard or Sales Scorecard.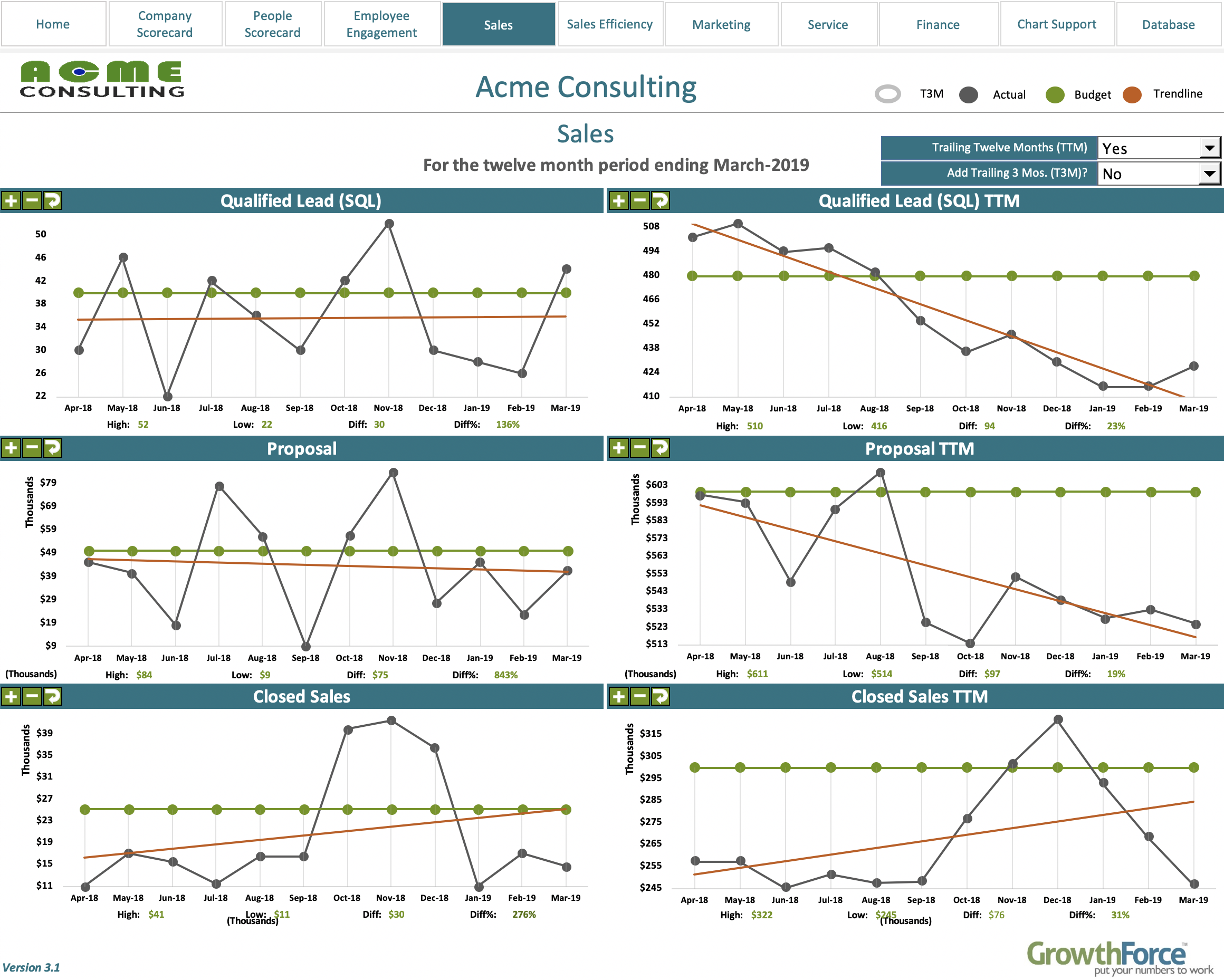 Here's an example of a Sales Scorecard we've developed in excel with easy-to-read charts. These charts measure three crucial sales metrics over the last twelve-month period and the trailing twelve-month period.
All CEOs and business owners should track the following revenue drivers:
Number of Qualified Leads
Dollar Value of Proposals Presented
Dollar Value of Closed Sales
If you haven't been tracking these vital sales metrics, a scorecard is great for helping you monitor the factors that feed or starve your revenue growth.
What You'll Find on Your Sales Scorecard
At a glance, this one-page summary of leading indicators for closed sales and revenue allows you to compare your actual numbers with trailing twelve-month trends.
You'll find six charts which graph the performance of three separate sales metrics, reflecting the last twelve months and a trailing twelve-month period.
The charts in the scorecard example can be explained as follows:
Sales Qualified Leads (SQL) and Trailing Twelve-Month SQL
Qualified leads drive sales.
They represent the top of your sales funnel, the potential customers with whom your sales team is in contact. You don't expect to close the deal with each one, but you can expect to hit a reasonable average.
If you don't have enough leads, you should prepare for meager sales, lower revenue, and a tighter budget.
If you have more leads than expected, hope for positive trends, like increasing sales, higher revenue, and perhaps new hires.
How to read this chart:
Any numbers which fall outside of normal or average should be closely evaluated. Do these outliers represent seasonal conditions, staff changes, service issues, new competition in your market, shifting market demand, or something else?
Value of Proposals and Trailing Twelve-Month Value of Proposals
Value of proposals presented represents the next stage of the sales funnel, leads which have turned into proposal opportunities. This metric also drive sales. Proposals presented can tell you whether your sales people are in contact with the right potential clients — the decision makers.
How to read this chart:
Downward trends in presented proposals can indicate a variety of concerns.
You might need to revisit your marketing strategy and develop a campaign that better targets, educates, and provides value to your potential customers. You might need to try out a different sales strategy, tactics, or implementation.
Measure your results and continue to make adjustments based on successes and failures.
Closed Sales and Trailing Twelve-Month Closed Sales
Closed sales and trailing twelve-month closed sales reveal how well your company's generating sales compared to your budgeted expectations, which are based upon your expected unit sales.
If you fail to meet sales budgets and lower costs at the same time, you risk diving head-first into a cash flow crisis.
How to read this chart:
If you're monitoring your sales results on a monthly basis, you can react quickly if your sales take a nosedive. You'll also be prepared to move fast, if sales ramp up due to a popular new product, hit new service offering, or a killer marketing campaign.
Actions Based on Your Sales Scorecard
Well-informed CEOs and business owners are more likely to respond quickly to the opportunities and threats which their businesses encounter in the marketplace. The consistent performance of their businesses act as a testament to their alertness and speedy action.
Business owners who adeptly anticipate upticks and downturns benefit from more accurate forecasting, while preparing for challenges presented within an ever-changing financial landscape.
After evaluating the numbers and insights included on your Sales Scorecard, you can take appropriate action. If your numbers aren't what you expected or trending in the wrong direction, you might consider the following actions to improve leads, sales, and trends:
Rev up marketing efforts.
Focus on coaching and training your sales force.
Align company culture and staff incentives with your business's sales goals.
Research your competition, so you can make certain your brand is unique and offering what your customer wants to buy.
Alternatively, if you have lots of new business coming in the funnel and your numbers are skyrocketing, you might consider taking the following actions:
With anticipated increased demand, consider new staff training time to predict when you'll need to on-board more staff (a welcome challenge for every CEO) to achieve perfectly timed hires.
If sales growth occurs at a rate that's faster than your business can handle, consider prudent ways to slow growth or increase your capacity to meet the growing demand on resources (raising working capital and/or restructuring operations).
Say no thank you to growing pains by anticipating and preparing for the increasing costs associated with higher demand and greater sales.
Don't flatline! Check Your Sales Scorecard
If you need help creating or deciphering your company's Sales Scorecard, setup a consultation with a GrowthForce ProAdvisor. We can teach you how to identify the key performance indicators and profit-driving factors that are essential to your business's success.
Talk to us about management accounting and learn more about managing your business using financial intelligence to make data-driven decisions...