Wellpath Energy Services LLC, a Houston-based provider of horizontal and directional drilling services to the Independent Oil & Gas Industry,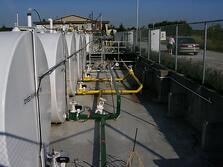 reached out to GrowthForce looking for a cloud-based bookkeeping service provider. Sam Chase, Wellpath Chairman and CEO explained, "The last thing I wanted to do was build and maintain an in-house accounting department and not be highly automated." Hoping to implement a bookkeeping system that included process automation, integration of software and a paperless back office, Wellpath turned to GrowthForce for the development of its fully cloud-based bookkeeping and financial reporting solution.
Starting with Outsourced Bookkeeping Services, Wellpath, like all of GrowthForce's clients was given a dedicated financial services team, including a bookkeeper, staff associate and a controller. With a dedicated team handling their books, Wellpath always has someone available to perform mission critical tasks, as well as second pair of eyes that are constantly looking over the books. By choosing GrowthForce, Wellpath not only eliminated the human resources hassles that come with building and maintaining an in-house finance team, but the company also benefits from the distinct advantages of having access to "just-in-time" expertise, tech savvy QuickBooks® pros, and seasoned financial systems design and integration professionals – all working side-by-side in a GrowthForce service center.
After setting up a QuickBooks Enterprise Solutions, GrowthForce worked with Wellpath's management and consulting CFO work to develop charts of accounts, document workflow, a general ledger, and a list of scheduled tasks including reporting and reconciliations. The team also established industry specific KPIs to track related to Wellpath's business goals and the overall standards for the competitive oil and gas industry. All of this information was compiled into an extensive process and procedures manual so Wellpath understood exactly what tasks were being performed and when. As timely reporting was one of Wellpath's highest priorities, GrowthForce made sure to provide a solution that gave Wellpath the financial intelligence they needed that was accurate and on time.
As Wellpath Energy Services oversees multiple drill sites, they need to continually monitor daily financial activities and job site profitability. By hosting their QuickBooks file in the cloud to ensure both its security as well as ease of access, Wellpath is able to gather and track financial data from multiple sites in real time. To help keep Wellpath on track, GrowthForce set up a daily job costing accrual process that calculates the true cost of each well per day so that Wellpath can see just how well each drill site is performing.
By choosing an outsourced bookkeeping provider over an in-house bookkeeper, Wellpath's paperless accounts payable and accounts receivable processes have boosted cash flow while lowering the cost of running the back office. Now, Sam Chase and Wellpath can use the time they would have spent managing an in-house financial services team to invest in growing the business. According to Chase, he now has "peace of mind knowing that Wellpath is operating with a highly efficient and streamlined" financial system.